Penn State receiver shakeup in 2023 cycle: BWI Daily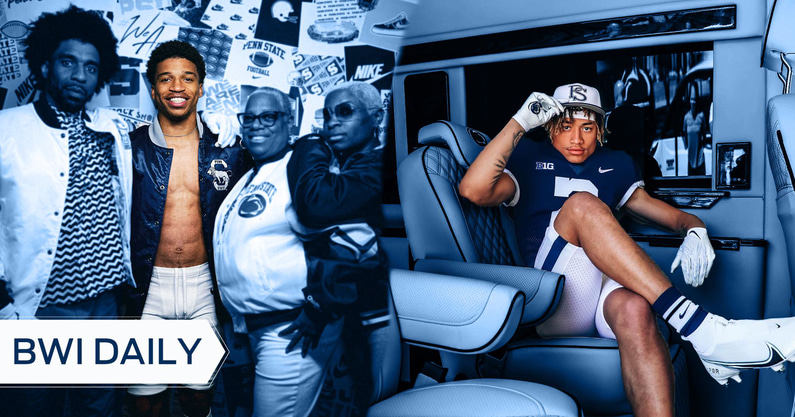 Time for our weekly Penn State recruiting update presented by our friend Andy Luedecke at MyPerfectFranchise. Andy is a huge college sports fan and franchise veteran, having owned multiple franchises and businesses. Using his expertise, he helps others find their American Dream through a very thorough consultation and evaluation process.
---
Penn State's recruitment of a receiver in the Class of 2023 has been a long and winding road. Once again, that recruiting sector took another big swing this weekend, which is where we start today's BWI Daily Edition: Recruiting Show. Subscribe to Blue White Illustrated on YouTube, so you don't miss the show at 7 pm!
Can Penn State still land its top receiver in 2023 cycle?
After striking out with most of its top targets in this cycle, the Nittany Lions landed a potential steal in three-star receiver prospect Yazeed Haynes, only to have him swiped away by Georiga. Soon after, receivers coach Taylor Stubblefield found a physical slot player in Enjani Shakir to lead the class, soon followed by a surprise commitment from speedster Carmelo Taylor out of Patrick Henry high school in Virginia.
But things changed again this week, which is where we start the show. Recruiting insiders Ryan Snyder and Sean Fitz discuss the decommitment of Shakir this weekend. Is this another loss for the program? Or is it something else? Next, he and Snyder break down how things have gone over the last several days.
The news of Shakir moving on from the program was quickly followed by 2023 top target Rodney Gallagher announcing that he was visiting the program this weekend. Are the two events linked? Snyder spoke to Gallagher before the show and shared what he learned from the Pittsburgh-area native.
Big movement in the On300 after senior season film
Next, the duo discusses the latest update in the On300, which is the internal rankings of the top 300 players in the Class of 2023. Then, Fitz and Snyder discuss the biggest movers in the class, of which there are several. Penn State commit J'ven Williams has a new honor on the list, while four-star tight end Andrew Rappleyea received a bump in his ratings. Check out the show to see how things turned out for Penn State's prospects and how the class rankings reshuffled after the update.
Finally, they give a preview of the visitor list for this week. While the preliminary results are still coming in, Snyder and Fitz have some confirmed names for this weekend and some others that won't be attending. They discuss how this weekend will function for the Nittany Lions and look ahead to December recruiting. They also update the situation around four-star corner Daniel Harris now that a new wrinkle has entered the conversation for his recruitment.
---
Learn more about Andy Luedecke and franchise ownership through these resources:
Andy's Story
Why a Franchise
Service Based vs Brick and Mortar
Semi Absentee Ownership
The Process and How It works
email: [email protected]
Book time with Andy:  Andy's Calendar