Penn State Recruiting Junior Days and new 2022 Offer: BWI Daily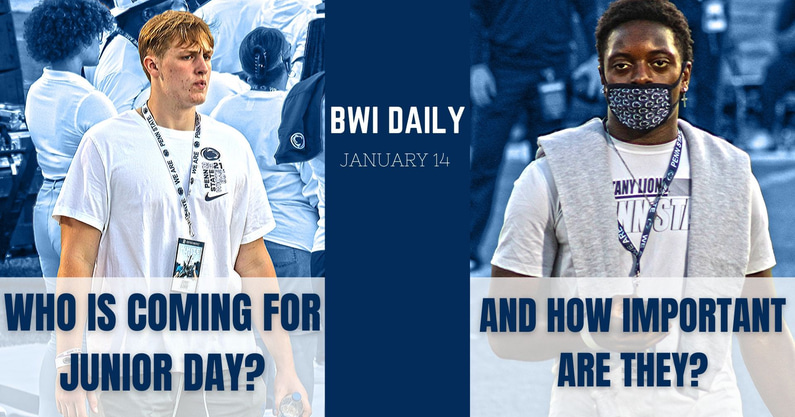 Penn State football is exiting a dead period in recruiting, and how has the month of January to host recruits and make visits. With the first junior day on January 15th, Penn State recruiting insider Ryan Snyder joins the BWI Daily Edition to give viewers a breakdown of what to expect this weekend and for the rest of the month.
Penn State Junior Days
Host Thomas Frank Carr starts with the basics for those unfamiliar with recruiting and how the calendar works. First, he asks Snyder what Junior Days are, how they work, and their benefit. How important are they? They discuss the evolution of this process over time and how the term "Junior Day" doesn't exactly fit with the modern weekend process.
Want to get the inside info on recruiting before anyone else? Sign up for Blue White Illustrated!
Next, they discuss how Penn State's attendee list has developed and compares it to previous years. With 2020 shutting down all recruiting visits last season, Snyder gives a broader view than just the immediate past. After that, he lets fans know some of the important names coming to Happy Valley this weekend.
This list for this weekend isn't the only time that Penn State will have recruits on campus. Snyder explains how many Junior Day weekends there are in the month and just how many players will come through campus in January. Finally, he gives examples of players that have committed during the event to give fans an idea of what might happen this month. Even if it's unlikely, it never hurts to be prepared.
New 2022 Offer
Featured: Ryan Snyder opens up the recruiting mailbag
After wrapping up their conversation about recruiting for the Class of 2022, T-Frank and Snyder discuss a piece of news that came out yesterday relating to the class of 2022. The traditional recruiting deadline is over the horizon, and Penn State has sent a new offer to 2022 offensive lineman Vega Ioane. The pair share what they know about the four-star recruit from Washington and then put his offer into perspective. They both agree that this might signal that Penn State is shifting plans from a critical area of talent acquisition this offseason.