Penn State Recruiting Mailbag: Latest on Jaishawn Barham, 2023 recruits moving up the board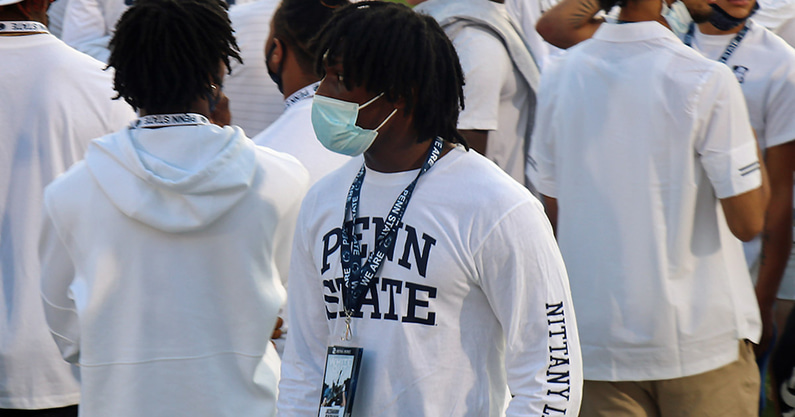 Tomorrow is Penn State's final home game of the 2021 season. It's crazy how fast football season always goes.
Although the Nittany Lions won't be playing in a New Year's Six bowl this season, there's still plenty to play for. An 8-4 record is what many predicted back in August, and that would pretty much guarantee a spot in the Outback Bowl. Getting a win over a solid SEC program would be a great way to build momentum going into 2022.
The end of the season also means that recruiting is about to crank up a notch. Although this week's visitor list is a bit smaller than previous weeks, there are a handful of players to know. Even with Penn State's Class of 2022 basically done, we expect 2023 prospects to visit throughout December, in addition to all the in-home visits James Franklin and his staff will do.
In the more immediate future, there are also a few notable developments happening in the Class of 2022, too, as linebacker Jaishawn Barham is set to take an official visit to Oklahoma.
We'll touch on that and much more in this week's mailbag.
Barham is visiting Oklahoma this weekend and he didn't visit PSU last weekend. It looks like that ship has sailed. Do u think they will bring the heat on Armella, LTG, Chris Graves, Moses Walker now? – Lamgol
Jaishawn Barham was never really expected to visit Penn State last weekend. His teammate, Christian Garrett, told myself and colleagues at the end of October that a group of St. Frances players were looking into attending the Michigan game. That's it. No Penn State source ever mentioned that they were expecting Barham last weekend, so I don't look at that as a sign that Penn State is fading.
Now, with that said, it's not a great sign that Barham is headed to Norman. The Sooners haven't offered yet, but they wouldn't be hosting him for an official visit this late if they weren't seriously interested.
I was also told this week that Barham is leaning towards taking a fifth official visit down the stretch. He's supposedly applying to a few schools, which hints that this could very well go the distance now that we're less than a month away from the early signing period. He is expected to be an early enrollee.
I don't get the impression that Penn State is going all out with Julian Armella or any specific defensive back currently. They've always been recruiting Rutgers linebacker commit Moses Walker. That never really stopped, but I haven't heard anything that makes me think he's close to switching to Penn State down the stretch. But yes, Walker would be a player they'd find space for if they could.
I still believe that adding a high school linebacker prospect remains a priority. They're also going to continue recruiting offensive tackles and defensive backs, but adding players at those two positions isn't a must. Keep players warm and see what happens. That's pretty much where we're at.
If Penn State could add a linebacker and keep its class intact, they'd be happy. After that, adding players in the transfer portal becomes the priority.
Would Penn State still have any interest in Va Tech commit Gunner Givens? On3 has him listed in a report on 20 possible flips before signing day. Very low forecast percentage though(10%) at this time. Thanks Ryan. – MBLion45
With Justin Fuente let go at Virginia Tech, I do expect Penn State to start talking about Gunner Givens more. In fact, I was told that's already started to take place.
With that said, it's still pretty early here. Franklin and his staff are always discussing how hard they want to pursue Player X, so this is just step one. I don't want people to get the impression that they've decided to go all-in.
Fuente was only just let go a few days ago, and Givens may stick with Virginia Tech anyway. He's always had strong ties to the school, growing up just 45 minutes away, so if they get a good coach in there, I wouldn't be surprised at all if he sticks with the Hokies.
We'll keep an eye on him in the days and weeks ahead.
Still early, but who are the 23 kids that are really starting to move up Penn State's board that originally weren't that high on the board? – Poncho570
One player I'm kind of surprised Penn State hasn't offered yet is Joseph Mupoyi from Archbishop Carroll in Washington, D.C.
Growing up in Congo, Mupoyi came to the United States two years ago and didn't start playing football until this season. He's still raw technically, but his strength and 6–foot-6, 220-pound frame has Penn State and many other schools intrigued.
Maryland, Miami and Ole Miss have already offered, while Penn State continues to monitor his progress. Every time I ask someone in Lasch about him, it's clear they're very interested. I actually asked someone this exact question last night and Mupoyi was immediately mentioned.
I think linebacker Phil Picciotti fits this description to some degree, too. He's held an offer since the summer, and was always someone the staff was going to pursue, but I believe PSU has him ahead of multiple prospects who are ranked higher by On3 and other outlets. That includes other in-state players like Josiah Trotter and Semaj Bridgeman.
The same can be said about Fairfax, Va., native Tony Rojas. I think it's clear that Ta'Mere Robinson is the staff's top linebacker prospect. After him, Picciotti and Rojas aren't very far behind. Picciotti is a true inside backer, while Rojas and Robinson fit well in the outside role.
Dallastown wide receiver Kenny Johnson also climbed the board this fall. He picked up an offer in October and is now a player they're pushing hard for. Boston College just offered Johnson this week, while Ohio State hosted him for a visit last Saturday. I expect his offer sheet to continue to rise.
I feel like Penn State is a couple double digit blown 4Q leads to Ohio State away from competing for a national title. Win those two games and you presumably win the B1G three years in a row and are for sure in the playoff at least once. How much do you think those two games have affected this program from a recruiting aspect? Do the classes go from top 15 to top 10, top 10 to top 5? – dgreder22
I think that's a simple way to look at it, but nothing is ever that simple in college football. There's nothing black and white about recruiting. It's always gray.
Winning is incredibly important. No one will argue that, but so many things go into a decision. Relationships are also key, and while Penn State is great at that part, so is Ohio State's staff.
You can point to a handful of players like Julian Fleming, Grant Toutant, Ronnie Hickman and a few others that likely would've helped Penn State with. Personally, I don't think Kyle McCord was ever all that serious about Penn State. I'd say the same about Marvin Harrison Jr., Zach Harrison and a few others. They always felt destined to end up with the Buckeyes.
I can certainly envision a world where Penn State is a much stronger program nationally if they're able to hold onto those leads in 2017 and 2018. Beating Ohio State three years in a row would shift the discussion in the Big Ten, but Penn State also lost other games those seasons.
It's impossible to know and we can speculate about it for years. Victories would've probably helped land a few players, but I don't know if I'd go as far to say that they'd be the kings of the Big Ten now.