Penn State running back Noah Cain enters NCAA transfer portal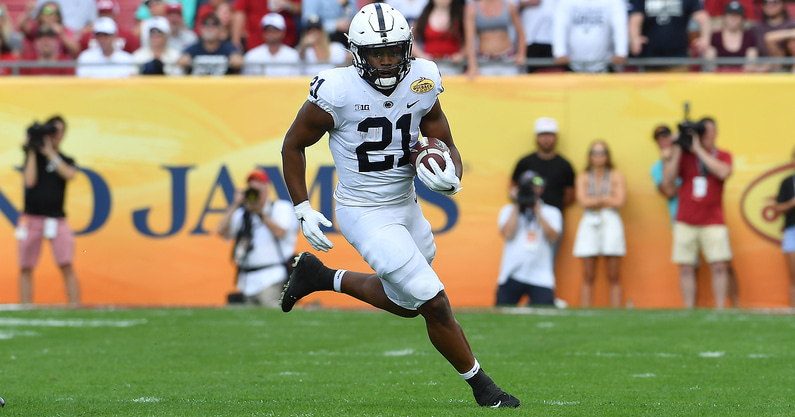 Penn State's running back room has taken a turn ahead of the 2022 season.
According to On3 senior national college football reporter Matt Zenitz, fourth-year running back Noah Cain has entered his name into the NCAA transfer portal.
The move short circuits a career for Cain that began with promise during the 2019 season as a true freshman.
Arriving to the Nittany Lions from IMG Academy, Cain emerged as a top option for Penn State during an 11-2 campaign that ended with a Cotton Bowl win. During the season, he scored eight touchdowns to set a Penn State record for a freshman, but missed four games due to injury in the final third of the season before returning in the bowl.
Excelling in the win against Memphis in Dallas, though, Cain set lofty expectations ahead of the 2020 campaign. Those plans were derailed quickly as Cain suffered a foot injury on the first possession of the first game of the season, a 36-35 overtime loss at Indiana.
Unable to return for the rest of the year, Cain became Penn State's top back again ahead of the 2021 season while still recovering from the injury. The effort didn't touch any of his previous marks, however, as he finished the season playing in 12 games, notching 106 carries for 350 yards and four touchdowns.
In his first appearance back, Cain made one of his biggest contributions of the season for Penn State. Scoring a key rushing touchdown, he helped lift the Nittany Lions in the 16-10 win at Wisconsin to open the season.
Cain earned the strong commendation of his Penn State teammates for the performance.
"We know we have a great back in Noah Cain. Anytime we get the ball in his hands, we know anything can happen. A big play can happen every time we get the ball in his hands," star senior receiver Jahan Dotson said. "That's a big focal point for us, making sure he touches the rock because we know the type of weapon we have on our team."
The same would not remain true as Cain's role gradually diminished in favor of sophomore Keyvone Lee. Lee finished atop the rushing chart with 108 carries for 530 yards and two touchdowns.
By early October, head coach James Franklin indicated room for growth. While Cain had contributed to Penn State's efforts, the program struggled through running game inconsistencies.
"I think he's playing well. I think Noah can do even more," Franklin said. "We've seen flashes, all of us have seen flashes of Noah doing some really good things. But again, that's all of it… But I think we've all seen what Noah has the ability to do. 
"In terms of what he's working through, that's part of football. Everybody this time of the year, with the competition that we've played, is working through things. Noah always approaches those things the right way. He lives in the training room, whether he's got a bump or a bruise or not, whether it's rehab or prehab. He's been great. We expect him to be full-go on Saturday (against Iowa). I know he'll do everything he possibly can to make sure that's the case."
With Cain's departure, Penn State's scholarship running backs ahead of the 2022 season presently include senior Devyn Ford, junior Keyvone Lee, redshirt sophomore Caziah Holmes, and two early enrollee true freshmen in Nicholas Singleton and Kaytron Allen.