Penn State scholarship chart: Where things stand after latest roster update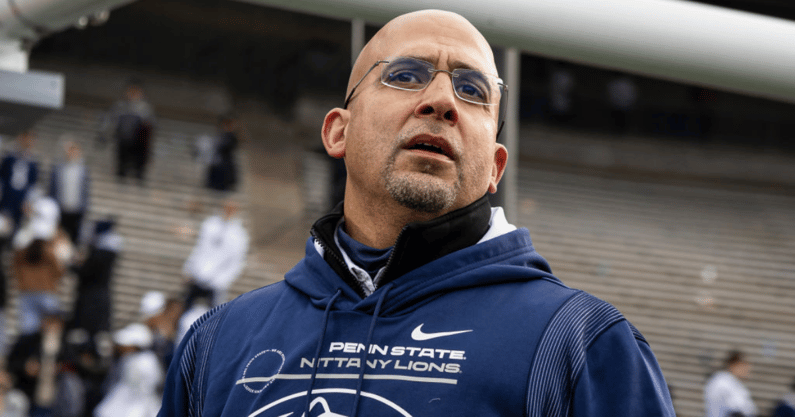 Penn State football updated its roster recently, giving us some new information as to how the Nittany Lions' roster will look next season.
Center Mike Miranda, guard Anthony Whigan, defensive tackle Fred Hansard, cornerback AJ Lytton and receivers Cameron Sullivan-Brown and Daniel George.
That frees up six scholarships for the Nittany Lions, bringing their total to 84. If safety commit Tyrece Mills does not sign, they'll be down to 83 scholarships — two below the limit of 85.
With that in mind, BWI has updated its scholarship chart for the 2022 season.
Below, you can find a year-by-year scholarship breakdown, as well as a positional analysis.
Players in italics took a redshirt season
**Junior college safety Tyrece Mills did not sign during the early signing period.
Penn State sixth year scholarship players
Sean Clifford
Chris Stoll
Jonathan Sutherland
Fifth year
Mitchell Tinsley
Bryce Effner
Juice Scruggs
PJ Mustipher
Nick Tarburton
Charlie Katshir
Ji'Ayir Brown
Jake Pinegar
Fourth year
Devyn Ford
Johnny Dixon
Marquis Wilson
Keaton Ellis
Brenton Strange
Caedan Wallace
Sal Wormley
Hakeem Beamon
Dvon Ellies
Adisa Isaac
Smith Vilbert
Joey Porter Jr.
Daequan Hardy
Third year
Keyvone Lee
Theo Johnson
Parker Washington
KeAndre Lambert-Smith
JB Nelson
Curtis Jacobs
Tyrece Mills**
Caziah Holmes
Tyler Warren
Jaden Dottin
Malick Meiga
Golden Israel-Achumba
Jimmy Christ
Nick Dawkins
Olu Fashanu
Ibrahim Traore
Jordan van den Berg
Cole Brevard
Fatorma Mulbah
Coziah Izzard
Zuriah Fisher
Bryce Mostella
Amin Vanover
Tyler Elsdon
Second year
Kalen King
Jaylen Reed
Christian Veilleux
Khalil Dinkins
Liam Clifford
Harrison Wallace
Landon Tengwall
Rodney McGraw
Davon Townley
Jamari Buddin
Kobe King
Jeffrey Davis
Zakee Wheatley
Sander Sahaydak
First year
Drew Allar
Beau Pribula
Kaytron Allen
Nick Singleton
Jerry Cross
Kaden Saunders
Anthony Ivey
Omari Evans
Tyler Johnson
Maleek McNeil
Drew Shelton
Zane Durant
Kaleb Artis
Dani Dennis-Sutton
Ken Talley
Keon Wylie
Abdul Carter
Cam Miller
Mehki Flowers
Cristian Driver
KJ Winston
Alex Bacchetta
Penn State Scholarship Breakdown By Position:
Quarterback: 4
Running back: 5
Tight end: 5
Wide receiver: 11
Offensive line: 13
Defensive tackle: 9
Defensive end: 10
Linebacker: 7
Cornerback: 8
Safety: 8
Specialists: 4