Penn State sends out many new offers; inside a commit's position switch that led to big things: Newsstand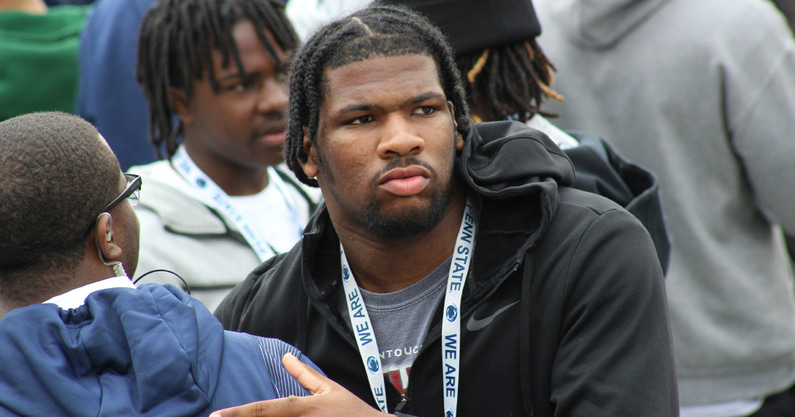 The final Penn State football newsstand of the week is loaded with new information about the Nittany Lions. Today, we will cover a tremendous story out of Philadelphia about a member of the program's Class of 2023, roundup the many new recruiting offers that went out on Thursday, and pick a quote of the day.
Let's get to the top tweets and headlines about Penn State and college athletics on May 13.
Penn State tweets of the day
Penn State was busy handing out offers to end the week. Numerous underclassmen and even one Class of 2023 prospect shared on social media that the Lions have now shown heightened interest.
Before we list them all, the senior-to-be is Cincinnati, Ohio corner Jermaine Matthews. He will decide on July 4. Penn State must lock in an official visit with him if it hopes to have any chance of landing the three-star, however.
Here is the list:
Next, and finally, for this section, we wanted to highlight a story on Penn State commit Jameial Lyons.
According to the Philadelphia Inquirer, Lyons wanted to play safety when he arrived at Philadelphia Roman Catholic from Bishop McDevitt in Wyncote, Pa., which closed its doors. However, his new coach wanted to move him up front. Lyons seems uncertain of the idea at first. But, it certainly paid off.
"He was doing some different things positionally than what we would've done with him, so I wasn't able to get a clear read on him as a position player," Roman Catholic Rick Prete told the outlet. "But I would say one thing you saw was the athletic ability, and you saw the frame.
"When he walked in, one of the first conversations we had was, 'You're a five-tech [lineman], you're putting your hand on the ground.'"
Added Lyons:
"I came from me backpedaling, getting from zone to zone [to] me actually trying to get the quarterback and me going against some of the best tackles in the country."
Headlines of the day
Penn State's NFL rookies: Carolina coveted Brandon Smith, Chicago sees Jaquan Brisker as a potential 2022 starter, more: Flounders, PennLive
Counting Penn State's biggest wins, losses in transfer portal era: Bauer, BWI
PSU Receivers Are Cashing In: Wogenrich, SI
Lions set official visit with Georgia defensive tackle: Snyder, BWI
Penn State football uniform history: The evolution of PSU's helmet: Nittany Lions Wire
Ejani Shakir Film Study: Carr, BWI
Grading Penn State Football's Transfer Additions: Victory Bell Rings
What can Penn State fans expect from wide receiver Ejani Shakir?: Snyder, BWI
With divisions on the endangered list, how might Big Ten change?: Saturday Tradition
Quote of the day
"The hometown hero was a main part. Why not play for your state [and] show why Pa. is one of the best football places in the country?"
—PSU commit Jameial Lyons to the Philadelphia Inquirer when discussing the main reasons for picking the Lions.