Penn State sends out three new offers after camp; Lift for Life fundraising underway: Newsstand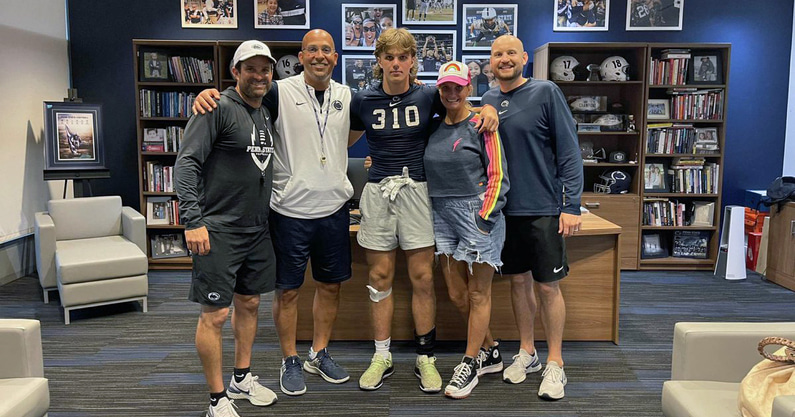 Penn State football news, notes, and updates on June 23 include new offers out following a midweek camp plus a Lift for Life update. The Lions also joined the mix for a third underclassman who was not on campus Wednesday, as well.
It's time to dive into the top tweets and headlines about the Nittany Lions and college athletics on Thursday.
Penn State tweets of the day
We start with new offers following the Lions' latest Elite prospect camp in State College.
On offense, Penn State was clearly impressed by Class of 2024 Millersburg, Ohio West Holmes running back Samuel Dixon. He was the first player to meet with head coach James Franklin and the staff to receive an opportunity to play for the Lions at the end of the day. A 5-foot-11, 185-pound prospect, Dixon will head to Michigan next. The Lions are one of 10 programs in the race right now.
Then, on defense, the camp standout of the day in the Class of 2024 was Middleton, Wisc., 2024 linebacker Sam Pilof. The 6-foot-2, 205-pound prospect now has four offers, including one from in-state Wisconsin. In the Class of 2025, Pittsburgh athlete Dayshaun Burnett stood out and picked up his first FBS offer from the Lions.
One final offer note: Penn State also extended one to 2025 Alabama safety Eric Winters.
In other news, Lift for Life fundraising is underway at Penn State ahead of the annual weightlifting event for charity. It will be June 30 this year at 5 p.m.
Fans can visit the Lift for Life page on PledgeIt to donate to their favorite position group or player. Each donation will be tied to the number of bench press reps that are completed.
Headlines of the day
What's next for Ji'Ayir Brown at PSU? The Lions' playmaker was a 2021 standout: Flounders, PennLive
Penn State adds savvy technician in Tomarrion Parker: T-Frank's Film Room: Carr, BWI
Pennsylvania Representative Wants Penn State to Reveal Location of Joe Paterno Statue: Wogenrich, SI
Top prospects expected Friday at PSU 7-on-7 tournament?: Pickel, BWI
Ranking the 5 toughest teams to visit a Penn State football White Out: Allen, Daily Collegian
PSU newcomers make strong early impression: Inside the Den: Bauer, BWI
2022 Big Ten win totals, odds, picks: Predictions for each team as Ohio State, Michigan face large numbers: Fornelli, CBS Sports
Penn State visit impresses four-star DB King Mack: Snyder, BWI
Here's how taxes, liability and ROI factor into NIL deals for cars: Wittry, On3
Quote of the day
"The support that the alumni have at Penn State, for all the players, it's crazy. Coming from the airport, after the official visit, I'm sitting there and a dude sees me with Penn State [gear on]. He's like, 'Wow, are you committed?' This was a letterman in Charlotte. I told him, 'No, I just came from an official visit.' He was like, 'Wow, I played football there. I was a center there on the 2006 Orange Bowl team. He was like, 'Man, you need help with anything, I'm here.' He gave me his number then, just like that. That's how you know, they have lettermen everywhere. They always say Penn State is everywhere, and it's true."
—Four-star safety King Mack to BWI's Ryan Snyder while discussing his recent official visit to State College.