Penn State target sets decision date; recapping the Lions visit weekend: Newsstand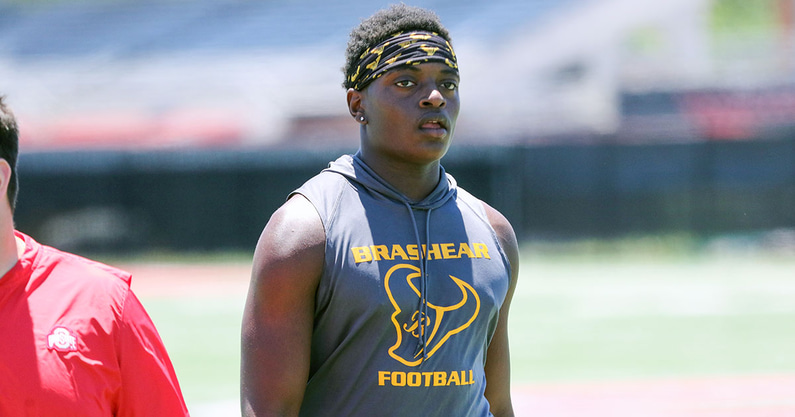 Penn State football news, notes, and updates for June 20 are heavy on recruiting after another official visit weekend. When will a top target decide? How did things go with uncomitted prospects overall? And who was the one player to pick the Lions this weekend?
It's time to review the top tweets and headlines about Penn State and college athletics on Monday.
Penn State tweets of the day
We start with a new decision date that is now locked in.
Four-star Pittsburgh, Pa., Brashear linebacker Ta'Mere Robinson will make his choice known on July 15. Penn State has a commanding lead in the On3 Recruiting Prediction Machine. But, he has also visited Miami and Virginia Tech for official visits, just as he did Penn State last weekend.
Our guess is that this is the Lions' recruitment to lose. However, it must push to the finish line to try and keep one of Pennsylvania's best Class of 2023 recruits home. Expect defensive coordinator Manny Diaz and corners coach Terry Smith to lead the final charge here along with head coach James Franklin.
In other recruiting news, Penn State picked up only one commitment this weekend, and it wasn't from someone on an official visit. Instead, it came from three-star defensive lineman Tyriq Blanding on Friday night. The pledge happened exactly a week after Blanding began his official visit in State College.
As for what happened over the weekend, Penn State hosted its top linebacker targets in Robinson and Tony Rojas plus four-star safety King Mack, four-star defensive lineman TJ Parker, corner Ja'Keem Jackson, running back London Mongtomery, and numerous commits. While some expected a few commitments to come out of that group before the weekend ended, all of the prospects decided to hold off on ending their recruitment. However, Penn State sits in find shape with many of them and is hopeful to land a pledge or two if not more from the group this summer.
Headlines of the day
James Franklin shares what being a dad means to him: Pynes, PennLive
Sal Wormley, bouncing back from lost year, making strides: Bauer, BWI
Meet PSU's Newest Resident of 'St1xC1ty': Wogenrich, SI
On300 LB Ta'Mere Robinson recaps PSU official visit: Snyder, BWI
Even in a Stable Quarterback Room, Roster Management Is Always Key: Jones, Statecollege.com
Ja'Juan Seider and Penn State impress RB London Montgomery: Snyder, BWI
Michigan announces Penn State football as Maize Out opponent: Allen, Daily Collegian
Penn State football is on the hunt for a new analytics coordinator after staff departure: Pickel, BWI
Nittany Lions know who they want to be on offense, but can they get it?: Giger, DkPittsburghSports
Quote of the day
"Something that stood out to me at Penn State was the strong connection between the players and the coaches. They are very close. Another thing that stood out to me was that Coach [Ju'Juan] Seider made me feel like I was at home. I was very comfortable talking about anything with him and the rest of the staff."
–Four-star RB London Montgomery to BWI following his PSU official visit.