Penn State Thursday three: A throwback to a Lion turned coach; the 2022 betting line that is most off, and more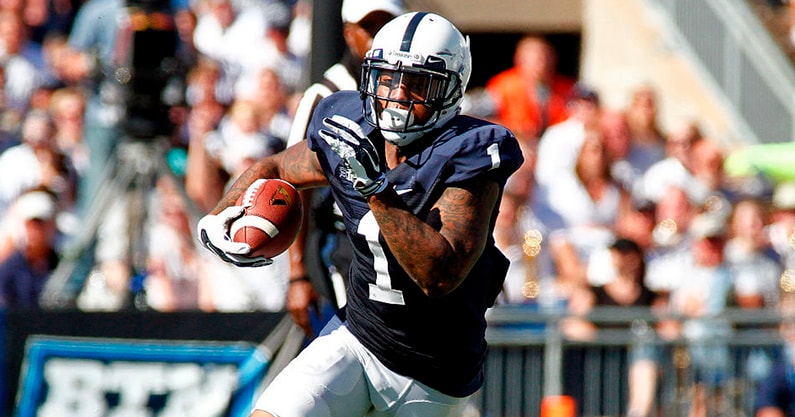 Penn State football is grinding through the spring evaluation period and the start of the Maymester. Recruiting info is plentiful at this time of year. So, too, is news about former Nittany Lions at NFL rookie minicamps.
Today, however, we're taking a break from all of that to focus on a trio of different topics. The Thursday Three is back with a throwback, thought, and take on the program's past, present, and future.
Throwing it back to a former player turned high school coach
Our throwback Thursday honoree is Bill Belton.
He's a timely candidate. Now the offensive coordinator at Atco, N.J., Winslow Twp. High, the former Penn State running back has sent his first player to his old school. The program's Class of 2023 four-star receiver, Ejani Shakir, committed to the Lions last week.
Shakir has yet to play for Belton, as he just transferred into the program. But, the two are creating a bond ahead of the 2022 season, when the former Lion is sure to put the future one in plenty of playmaking spots. And, he certainly knows why Shakir wants to play where he did.
"I think for him, ultimately, when we went up to that White Out game, nothing really compares to that on the East Coast, or really in the whole country," Belton told BWI. "There are only a few spots that really look like that. He knew then that he wanted to be part of this."
As for a look back at Belton's playing days, he rushed 355 times for 1,652 yards and 14 touchdowns over four seasons in blue and white between 2011 and 2014. He also holds the school record for the longest touchdown run. It came on a 92-yard scamper against Indiana during his senior year.
Our thought on which betting line is most out of whack
The folks over at FanDuel released six early betting lines for Penn State games ahead of the 2022 season.
Which one confuses us the most?
First, let's share the rundown:
Sept. 1: Penn State (-3) at Purdue.
Sept. 17: Lions (-1) at Auburn.
Oct. 15: PSU (+6.5) at Michigan.
Oct. 22: Lions (-9) opposite Minnesota.
Oct. 29: Penn State is (+13.5) vs. Ohio State.
Nov. 26: Lions (-6.5) vs. Michigan State.
From this vantage point, it's the Ohio State line that stands out like a sore thumb.
Penn State has often been disrespected in this matchup, which leads to a large point spread that it has routinely covered of late. Sure, could things change drastically by October? Absolutely. But right now, to make the Lions a nearly two-touchdown underdog just feels way out of place.
A close second is the line at Auburn. Should Penn State, with all the questions it has to answer, really be a short road favorite against an SEC school? The Tigers are a mess, but we're still not sure about that at this stage.
Thinking ahead
We close things out with our thought of the day. It's a simple one: Things are about to get really busy.
Penn State will host prospects this weekend and then take some time off for the Memorial Day holiday as recruiting travel wraps up. However, once June is here, it will have camps almost every weekend and prospects in town all the time. Combine that with summer workouts for the players along with classes, and the somewhat dullness of May will end quickly. Kick time announcements are right around the corner, as well, which will give us all plenty to get excited about as another season nears.