Penn State transfer lands at SEC school; Lions commit shuts down recruitment: Newsstand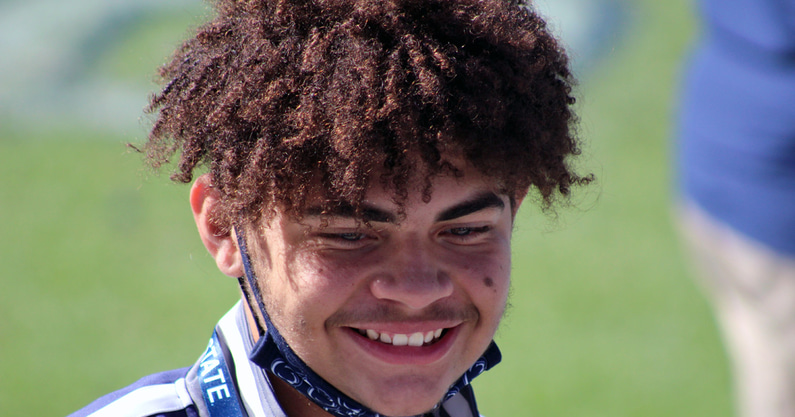 Penn State has reached the second Friday of January.
The Nittany Lions are set for a Junior Day event on Saturday. Multiple underclassmen will be in town for a chance to interact with the coaches, see campus, and more.
It's one part of the top tweets and headlines about Penn State and college football on Jan. 14. There's also a transfer portal update and new news from a Class of 2023 commitment.
Let's get to the latest notes and updates.
Penn State tweets of the day
We start with news related to the transfer portal.
Running back Noah Cain Noah Cain shared a goodbye message to Penn State and its fans on Thursday. Hours later, he announced a transfer to LSU.
Cain is from Louisiana, so the destination certainly is not a surprise. The timing was, however. Cain only entered the transfer portal on Wednesday.
No matter, he's found his new home and will head to Baton Rouge after graduating from Penn State this spring.
In other news, Class of 2023 four-star Virginia tight end Mathias Barnwell has shut down his recruitment.
Barnwell, who committed to, decommitted from, then recommitted to Penn State in this cycle, raised eyebrows with an offer tweet from another school a few weeks ago.
However, that has since been deleted. In its place now stands a tweet that lets other coaches know that he's done communicating because he is locked in with the Nittany Lions.
Finally, a new Class of 2022 offer went out from the Lions on Thursday. The program offered former Washington offensive line commit Vega Ioane. He's one of the top uncommitted seniors ahead of the traditional signing day in February. To land the On3 Consensus three-star, Penn State would almost certainly have to host him.
Headlines of the day
Gov. Mifflin product Nick Singleton is named finalist for Maxwell Club's Offensive Player of the Year: Scarcella, Reading Eagle
Penn State set to host Texas lineman for second visit on Saturday: Pickel, BWI
Fixing a PSU problem: How to unlock this (still) crowded running back room: Bodani, York Daily Record
Penn State records top-5 finish in Directors' Cup fall standings: Eckert, BWI
Nittany Lions expected to reload on defensive line in 2022: Hayes, CNHI
Which Penn State player could go from contributor to possible NFL Draft darling with strong 2022?: Roundtable: Pickel, BWI
PSU offensive lineman Will Knutsson announces decision to enter transfer portal: Yoder, Daily Collegian
Where NFL Draft experts expect Jaquan Brisker to land: Eckert, BWI
The Good, The Bad & The Ugly: Reviewing where Penn State football stands heading into the offseason: Sauber, CDT
Noah Cain says goodbye to Penn State family, commits to LSU: Bauer, BWI
Quote of the day
"To Coach Franklin and the rest of the Penn State Football Staff, thank you for taking a chance on a young, Southern kid and welcoming me into Happy Valley with open arms. The memories I created with my teammates and the lifelong relationships I made along the way throughout my Penn State career will forever be enshrined in my heart. I will never forget December 19th, 2018 when I officially became a Nittany Lion. 
"I would also like to thank Nittany Nation, both students and alumni for the constant love and support. Playing in Beaver Stadium was always a dream of mine. Thank you for making my reality even better during each game. I am grateful for the opportunity afforded me to be a part of THE Penn State Community."
–Part of PSU running back Noah Cain's statement announcing his decision to enter the NCAA transfer portal.