Penn State unsure if Keyvone Lee will be available for Saturday's matchup with Central Michigan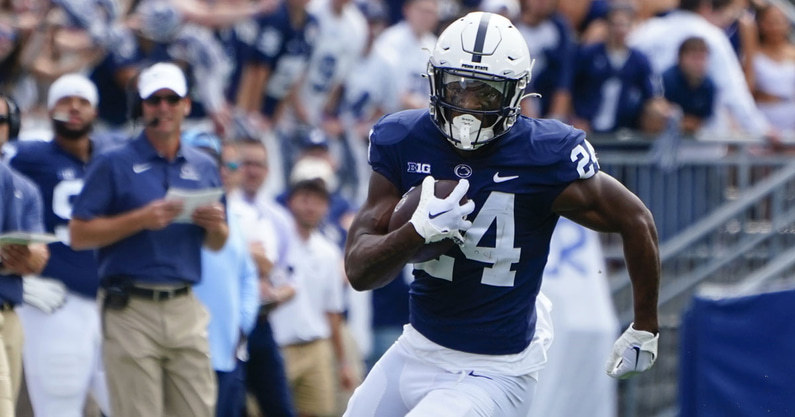 Penn State could be down a running back on Saturday when Central Michigan visits Beaver Stadium for a Noon kick at Beaver Stadium. The Lions lost starter Keyvone Lee for a brief period during last week's win over Auburn. However, he did return to action during a 41-12 Penn State win over the Tigers. But, the veteran's status is up in the air for this week, even if he was going through drills on Wednesday when reporters saw a brief portion of practice.
"I'm not sure yet," Penn State coach James Franklin said when asked about Lee's status for Week 4. "He was out here. But yeah, I'm not sure yet."
Despite having the first-team role, Lee is the Lions' third-leading rusher to date. He has carried 14 times for 48 yards so far this season as Penn State has started 3-0. Against the Tigers, he stayed down on the field on the team's second offensive series. He did have three carries in the second quarter, one of which resulted in a fumble that was recovered by the Lions. He did not have another attempt from there.
Penn State run game continues to evolve
Regardless of whether Lee plays against the Chippewas, the key is that Penn State has depth in its running backs room. Lee is the first man up through three games. But, the Lions stat book on the ground is led by a pair of freshmen. Nick Singleton has a team-high 30 carries for 334 yards and four scores through his first three games. Classmate Kaytron Allen, then, has 23 for 106 and the two scores he rumbled in for against Auburn.
Franklin addressed both first-year standouts during his Tuesday news conference.
"Right now, Nick is handling things pretty well," Franklin said. "I also think that is a little bit his personality. Like the players kind of give him a hard time, because like after he scores a touchdown or something they say he has no swag. No swag, all substance. Like doesn't wear gloves. They love to give him a hard time, but it doesn't faze him.
"I think he's said 17 words since he's been at Penn State. Very Steady Eddie, level headed, doesn't get too high or get too low. I think kind of how he was raised with his family as well as the program that he came from, Governor Mifflin did a really good job preparing him for this as well. And I think the relationships that he has built with our staff has helped with that as well."
On Allen, Franklin had this to say:
"Kaytron, just looking at him, he just physically looks different. I think with that he is quicker, he's faster, he's more explosive.; I just think he's playing really confident, really good football right now. I think you'll see him gradually put weight back on, but it will be the right weight.
"Right now, he's thriving in a lot of ways. He's a somewhat quiet guy and not the most expressive guy, so to see him on Saturday, for me almost like a father figure or kind of looking at these guys as your sons, to watch that kid smile and his whole face light up and see the team react to him is cool."
Penn State-Central Michigan starts at Noon ET Saturday. Big Ten Network will televise the contest.