Penn State vs. Michigan State depth chart: Offense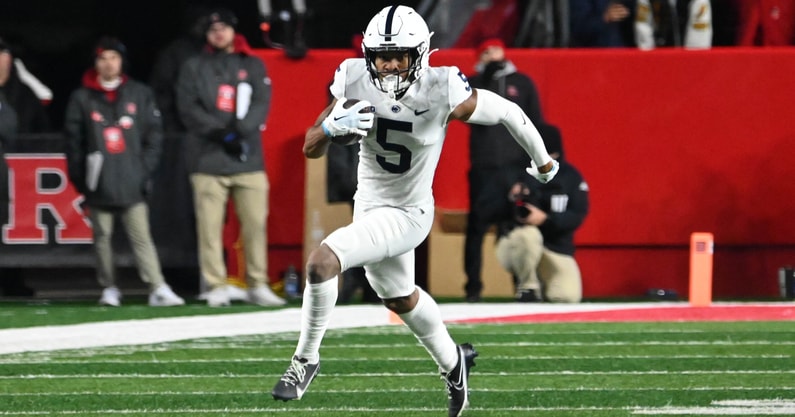 Penn State finishes the 2022 regular season on Saturday against Michigan State with even more holes in the roster. After the loss of Parker Washington for the season, we've updated the depth chart. Check out the moving parts at the offensive line and receiver to get a sense of what's to come. 
Penn State Offense
Quarterback
14 Sean Clifford (Sr.+)+
15 Drew Allar (Fr.)
11 Christian Veilleux (R-Fr.)
9 Beau Pribula (Fr.)
The Lowdown: 
Sean Clifford will finish his second senior season as the undisputed starter and leader of the team. At this time last season, that would have been an unthinkable reality. 
The way it worked this season is that more than one backup quarterback gets to see the field in garbage time. So, if Penn State puts up another blowout, there's a chance you'll see Drew Allar and Christian Veilleux. 
Penn State running backs
13 Kaytron Allen (Fr) OR 10 Nick Singleton (Fr)
24 Keyvone Lee (So.)
38 Tank Smith (R-Jr)
The Lowdown: 
Running back Keyvone Lee was back at practice for the first time in several weeks on Wednesday, signaling a potential return to the field. However, it's not a slam-dunk considering he warmed up with the team and didn't play for several weeks. However, whatever setback he suffered is at least partially behind him. 
Lions receiver
Wide receiver
6 Harrison Wallace (R-Fr.)
1 KeAndre Lambert-Smith (So.)
80 Malick Meiga (So.)
Slot
5 Mitchell Tinsley  (Sr+)
82 Liam Clifford (R-Fr.) 
19 Jaden Dottin (R-So)
7 Kaden Saunders (Fr.)
Wide receiver
5 Mitchell Tinsley  (Sr+)
1 KeAndre Lambert-Smith (So.)
18 Omari Evans (Fr.)
13 Cristian Driver (Fr.)
The Lowdown:
This week's biggest change comes at the receiver position with the loss of Washington. As they did in the spring, Mitchell Tinsley replaced Washington in the slot, and KeAndre Lambert-Smith shifted to his receiver position. 
On the other side, backup Harrison Wallace ascended into the quasi-starting third receiver position with Lambert-Smith's move. However, the targets in the game shifted dramatically, with Lambert-Smith struggling to gain positive yardage and hold on to the football.
Expect to see plenty of two tight end sets on Saturday.  
Penn State tight ends
86 Brenton Strange (R-Jr.)
84 Theo Johnson (Soph.) 
44 Tyler Warren (Soph.)
16 Khalil Dinkins (R-Fr.)
88 Jerry Cross (Fr.)
The Lowdown: 
Penn State's two tight end system is humming along well now that starters Theo Johnson and Brenton Strange are both healthy. The duo has changed the face of the offense and opened up new possibilities in the run game. 
This week could be another chance for the Nittany Lions to feature Strange in play-action and Johnson down the middle of the field. 
Lions offensive line
Left tackle
66 Drew Shelton (Fr.)
72 Bryce Effner (R-Sr.)
65 Jim Fitzgerald (Fr.)
Left guard
64 Hunter Nourzad (R-Sr.) OR
56 JB Nelson (R-So.)
Center
70 Juice Scruggs (R-Sr.)
64 Hunter Nourzad (R-Sr.)
71 Vega Ioane (Fr.)
52 Dominic Rulli (Fr.)
Right guard
77 Sal Wormley (R-Jr.)
71 Vega Ioane (Fr.)
Right tackle
72 Bryce Effner (R-Sr.)
79 Caedan Wallace (R-Jr.)
51 Jimmy Christ (R-Soph.)
The Lowdown: 
Now that left tackle Drew Shelton has officially burned his redshirt, we can set some things in stone. While tackle Caedan Wallace took snaps at left tackle in the final month during open practice, nothing has come out of that observation. So, for now, we'll assume that's an emergency-only contingency and move him back over to right tackle. 
On that side, we're not ready to call him the starter yet, but there's a good chance he will play this week after several weeks of solid participation in practice. So while it will change some rep counts, the reality remains that Bryce Effner will play this weekend. 
Finally, the interior could get reinforcements this week now that freshman Vega Ioane's redshirt status is safe. The 6-4, 340-pound lineman could see playing time this week to take some snaps from veterans Juice Scruggs and Hunter Nourzad.