Penn State vs. Rutgers depth chart: Offense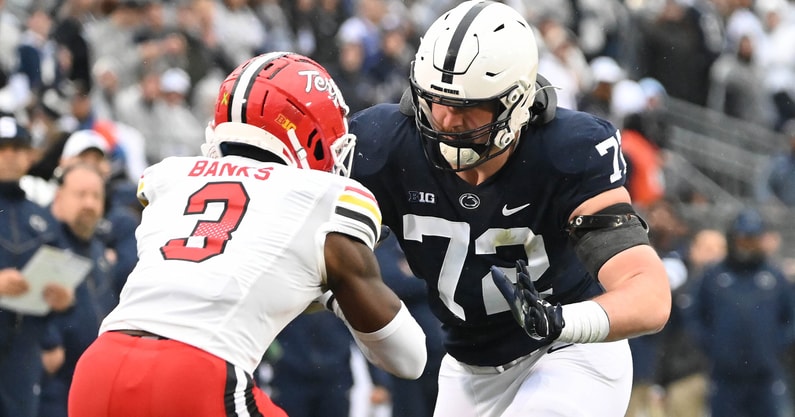 Penn State Offense
Quarterback
14 Sean Clifford (Sr.+)+
15 Drew Allar (Fr.)
11 Christian Veilleux (R-Fr.)
9 Beau Pribula (Fr.)
The Lowdown: 
Third-string quarterback Christian Veilleux saw action in a game for the first time since week three against Auburn. The Nittany Lions have a clearly defined pecking order, and head coach James Franklin made it clear that no quarterback other than Sean Clifford will play until the game is miles out of reach. So once again, fans will root for an early blowout not just for the pride of it but to see backup Drew Allar for an extended period.
Penn State running backs
13 Kaytron Allen (Fr) OR 10 Nick Singleton (Fr)
38 Tank Smith (R-Jr)
24 Keyvone Lee (So.)
The Lowdown: 
Running back Keyvone Lee hasn't been seen at practice in several weeks but has warmed up or dressed on game day. The third-year player has not taken the field since the game against Michigan in week seven. Where he stands in his return from injury is a mystery. Meanwhile, Nicholas Singleton regained the starting job last week after ceding the starting position to fellow freshman Kaytron Allen in the two weeks prior.
While it seems like Singleton is once again the team's lead back after a breakout game against Maryland, we'll leave the duo as an OR designation. Neither runner has dominated snaps in any game this season to bring actual meaning to the term "starter."
Lions receiver
Wide receiver
1 KeAndre Lambert-Smith (So.)
6 Harrison Wallace (R-Fr.)
80 Malick Meiga (So.)
Slot
3 Parker Washington (So.)
82 Liam Clifford (R-Fr.) 
19 Jaden Dottin (R-So)
7 Kaden Saunders (Fr.)
Wide receiver
5 Mitchell Tinsley  (Sr+)
18 Omari Evans (Fr.)
13 Cristian Driver (Fr.)
The Lowdown:
Franklin announced Wednesday that freshman wide receiver Cristian Driver is moving to receiver full-time after the season. So to start, we're putting him behind Mitchell Tinsley and Omari Evans on the depth chart at the X receiver position.
But only usage patterns have changed beyond adding Driver to the depth chart. Liam Clifford played more in the last two games than he has all season, and Malick Meiga saw meaningful game action against Maryland. So again, nothing is changing on the depth chart, but prepare to see more players in these final two games.
Penn State tight ends
86 Brenton Strange (R-Jr.)
84 Theo Johnson (Soph.) 
44 Tyler Warren (Soph.)
16 Khalil Dinkins (R-Fr.)
88 Jerry Cross (Fr.)
The Lowdown: 
Franklin mentioned earlier this season that Penn State freshman tight end Jerry Cross was working his way back from injury. With most predictions for the final two games leaning toward blowouts, we're adding Cross to the depth chart in case he gets the chance to see the field late.
Lions offensive line
Left tackle
66 Drew Shelton (Fr.)
79 Caedan Wallace (R-Jr.)
72 Bryce Effner (R-Sr.)
Left guard
64 Hunter Nourzad (R-Sr.) OR
56 JB Nelson (R-So.)
Center
70 Juice Scruggs (R-Sr.)
64 Hunter Nourzad (R-Sr.)
71 Vega Ioane (Fr.)
52 Dominic Rulli (Fr.)
Right guard
77 Sal Wormley (R-Jr.)
71 Vega Ioane (Fr.)
Right tackle
72 Bryce Effner (R-Sr.)
79 Caedan Wallace (R-Jr.)
51 Jimmy Christ (R-Soph.)
The Lowdown: 
Getting the best five offensive linemen on the field might be more of a theoretical action than a practical one for Penn State at this point in the season. However, between managing redshirts and injuries, the offensive line could take many shapes over the next two weeks.
"So just kind of a lot of moving parts, a lot of discussions, lot of management, a lot of discussion with the coaches, a lot of discussion with the players. And you just have to make sure, ultimately, you do whatever you got to do to win this week. While also being conscientious about the player and his future and also what's in the best interest of program too," Franklin said after practice on Wednesday.
Redshirt management is where things get interesting.
Since his injury against Minnesota, right tackle Caedan Wallace has taken reps at left tackle during the open portions of practice when the offensive line is going through fundamental drills. Wallace was more active with the group this week than he has been, and we're confident he's a factor in the lineup this week. So, will Wallace slide over to left tackle to try and preserve freshman Drew Shelton's redshirt? It's a strong possibility, but with Franklin's 1-0 priority, Shelton will play if he's the best option. So, for now, we'll put Wallace as the backup left tackle. Also, keep an eye out for JB Nelson at that spot because Franklin mentioned that he's a possibility in the past.
However, Nelson has played in three games this season, meaning he only has one more contest before he burns his redshirt. The JUCO offensive lineman was supposed to use this season to reshape his body and prepare to be a big factor over the next several seasons. That means if Penn State can get away with it, he may not see the field for the next two weeks. Freshman Vega Ioane only played in two games this season, meaning he can play in one game during the season and the bowl game if the team wants to save a game for him to play in the postseason.
If no one gets hurt, Wallace, Nourzad, Scruggs, Wormely, and Effner could man the starting five and preserve those redshirts for one more week.