Penn State WR Mitchell Tinsley looks back on his decision to enter the transfer portal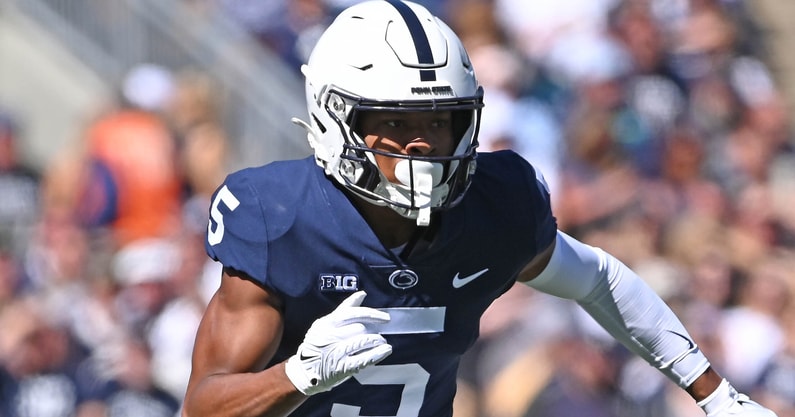 LOS ANGELES — As Penn State searches high and low to add wide receivers in the transfer portal for next season, last year's portal addition, wide receiver Mitchell Tinsley, is preparing to play in his final collegiate game. A native of Missouri, Tinsley's path to Penn State and now the Rose Bowl is one of the more compelling stories as this year's season comes to a close.
Playing just one season of high school football, Tinsley had no offers to continue his career coming out of Lees Summit. Eventually, he did earn an opportunity to play at the junior college level, ending up at Hutchinson Community College in Kansas. He played sparingly his first year on campus but gave it one more go the following year, totaling 47 receptions for 556 yards and four scores. That season put him on the map of Division I colleges, and Tinsley took the opportunity in 2020 to play at Western Kentucky.
He made an immediate impact with the Hilltoppers his first season, but it was his second year, playing alongside current New England Patriots quarterback Bailey Zappe in 2021, when everything changed. Totaling 1,402 yards receiving and 14 touchdowns, Tinsley had finally arrived on everyone's radar.
But with Zappe and many others moving on from that team, Tinsley once again had a decision to make. He could stay at Western Kentucky one more season or enter the transfer portal to test himself at college football's highest level.
"For me, if I wouldn't have had the season I had [in 2021], I probably wouldn't have hopped in the portal like that," Tinsley said. "For some people, it could be like a death trap. But, I felt like for me, I knew I wanted to play at the Power Five level. I wanted NFL scouts to see me playing against the best competition, week in and week out. So, I feel like, for me, hopping into the portal after the year I had, I knew that there would be some Power Five schools, at least one. It ended up being really good for me when I got into the portal."
Tinsley was only in the portal for a day before schools all across the country started offering. He had offers from many of the game's top schools, including the school he pulled for growing up. Penn State wasn't that school at the time, but that quickly changed once he got to know James Franklin and Taylor Stubblefield.
"It was definitely different, going from high school with no offers and then, you know, almost feeling like a five-star when I entered the portal. I basically was talking to my dream schools.
Tinsley went on to add, "My dream school was actually USC growing up. I was a big Reggie Bush fan. They offered me. UNC, Tennessee, Rutgers, Louisville, Florida State, Texas A&M, Ole Miss [also offered]. I felt like what separated Penn State, the day I got into the portal, they were there the next day coming to see me. I felt like they were very genuine and honest.
"For me, I'm not big on promises. 'Oh, we're gonna do this, do this. [They said] if you come here and work, you can earn whatever you want. So, I feel like that was important to me."
With Penn State hoping to add a few receivers in the portal in the weeks ahead, Tinsley said he's done his best to help the staff land a talented playmaker or two for next year.
"Yeah, I told Coach Franklin and Coach Stubbs that I'm willing to help however I can," Tinsley said. "There's been a few guys that have come in. But yeah, I said what I had to say to them, and, you know, I definitely gave them a positive experience from my point of view. I've tried to help for sure."
Now, with Tinsley set to play in the biggest game of his career Monday when Penn State faces Utah in the Rose Bowl, he hopes to put on a show one last time.
"It's a dream come true being able to be here in this moment," Tinsley said. "As a [high school] senior, with zero offers, I dreamed about being in situations like this, being in moments like this, being interviewed and stuff like that. Now I'm actually here, I really appreciate it. Just being here is a dream come true."