Penn State wrestling lands AJ Fricchione; piecing together the Lions' schedule so far, and David Taylor wins Worlds again: Notebook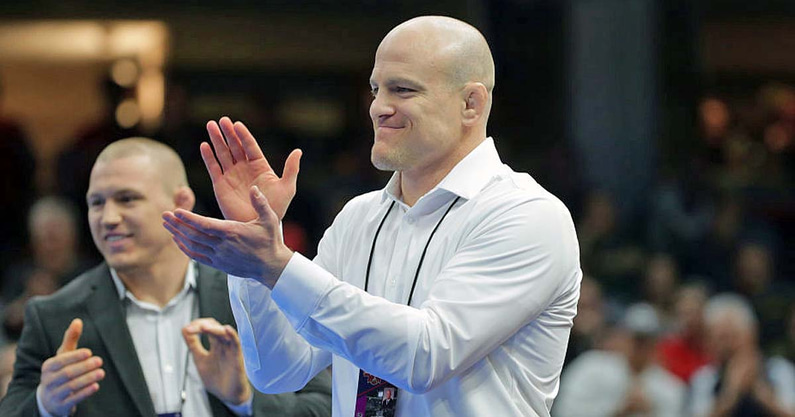 Penn State wrestling has a reason to celebrate in mid-September. The Nittany Lions picked up a new Class of 2023 commitment on Friday from New Jersey upperweight AJ Fricchione. The two-time Garden State placer is the No. 17 grappler at 182 pounds, according to FloWrestling.
"First off, I would like to thank God for putting me in the position that I am in today," Fricchione wrote on Twitter. "I want to thank my Dad for always taking me to wrestling tournaments and pushing me to be the best wrestler I could ever be, I also want to thank my Mom for giving me every opportunity to be great at the sport and a great kid off the mat. I cannot thank my parents enough for everything they have done for me. Also, I would like to thank my friends for always pushing me to be on top and supporting me throughout my whole journey.
"I would like to thank Nick Francavilla, Diego Crespo, Coach Bell, my PT Julia, my trainers, and the rest of the Bergen Catholic coaching staff for making me the man and wrestler I am today. I also want to thank my teammates for being there for me on and off the mat. Finally, I would like to thank all the schools that gave me a chance to wrestle for them. With that being said, I am proud to announce that I will be furthering my academic and wrestling career a Penn State University."
Fricchione finished second in the state at 195 pounds during his sophomore year. He was a runner-up as a junior wrestling 215. Now, the Bergen Catholic standout has his eyes on going out of the prep level on top. And then, it'll be off to Penn State.
"I don't want anything else other than to be on top of that podium in boardwalk hall holding that bracket," he told HeavyWeightNationBlog.
Worlds update
As of Friday, two former Penn State wrestlers have completed their competition at Senior Worlds in Belgrade, Serbia.
Zain Retherford rolled into the finals but lost 10-0 to Taishi Narikuni of Japan. It still marks his first medal at 70 kilograms.
David Taylor fared better. He won his second world gold by beating familiar foe Hassan Yazdani Charati of Iran 7-1 in the 86 kilogram title bout.
Piecing together the 2022-2023 Penn State wrestling schedule
This year's wrestling schedule could be released at any moment. However, it hasn't been yet. And, that's almost certainly because the Big Ten is still finalizing plans across the conference.
That said, we do know some dates for head coach Cael Sanderson's team when it comes to the non-conference schedule. Some schools have already put their schedule out. Thus, we know the following:
–Lock Haven will be at Penn State and Rec Hall on Nov. 11 at 7:30 p.m.. It could be the Lions' opener. However, that is not confirmed yet. Either way, it will set up a nice doubleheader for those who want to see the match Friday night before heading to Beaver Stadium for Penn State-Maryland on Saturday.
–Army will hold the Black Knight Invitational on Nov. 20. It will host eight schools, including the Lions. Fellow Big Ten foe Indiana will be on hand, as well.
–Penn State will be at Rider on Dec. 2 for a 7:30 p.m. dual. It will also wrestle at Lehigh, and we expect that to be on Dec. 4, though that is not confirmed yet.
–On Feb. 26, Clarion will visit Rec Hall for a 1 p.m. match.
Times are not yet out for all of the above matches. Blue-White Illustrated will continue posting schedule updates as we learn of them inside The Wrestling Room forum.
RBY talks NIL and more
In case you missed it back in August, BWI caught up with multi-time national champion Roman Bravo-Young for an exclusive interview about his name, image, and likeness dealings, and more. NIL played a major role in RBY deciding to come back for a final season at Penn State.
"The fan base is still going to be there, and who doesn't want to run out to a sold out Rec Hall every match," Bravo-Young said. "It's another year of college and just another opportunity to try to win another title. Not only myself, but I'm trying to win a team title and help out the team. I'm going to wrestle internationally, but it's kind of like, what's the rush of that? So it's kind of a no-brainer.
"I'm still wrestling every day even if I weren't to come back. So, now I'm just getting some money and I'm still in college. It's pretty cool. You only get one chance in college, so why not? This year is a go at it, have fun, and enjoy it. There's still a target on my back, but at the end of the day I don't feel like I have too much to prove, but I still want to win."