Spartans seek bounce-back victory, but Penn State looks to finish strong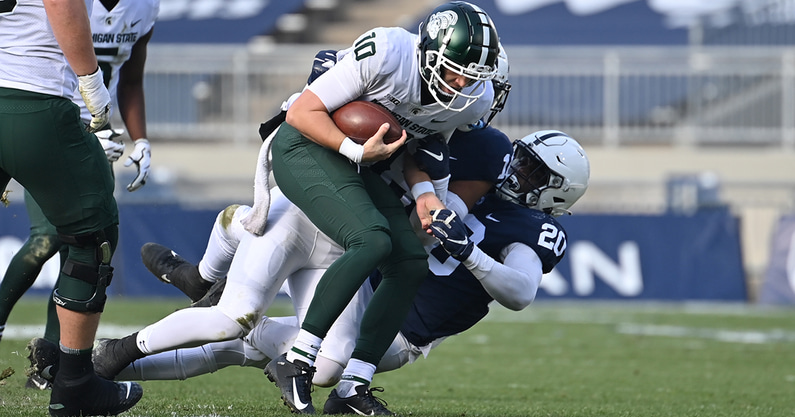 When you lose a game the way Michigan State lost to Ohio State last weekend, falling 56-7 in a much-anticipated matchup that was decided well before halftime, there are a couple of ways to respond.  
The first is to reframe everything. In this case, that means recalling that the Spartans were never expected to be involved in such a consequential game so late in the season. 
Coming off a 2-5 finish in coach Mel Tucker's debut season, they had been predicted to rank somewhere in the lower half of the Big Ten East Division standings this fall. That they were instead competing for the division title with just two weeks left in the regular season was, to some observers, a triumph in itself, one that overshadowed the drubbing they absorbed in Columbus.
But Tucker wanted no part of such rationalizations when he met with reporters earlier this week.  
"We're not playing with the house's money," he said. "That's not our attitude. I get that a lot, so I know the players are hearing it as well: Hey, this is a great season, no one expected you to do anything. Well, that doesn't register with me, and it doesn't register with our team."
'Neutral thinking'
Tucker would prefer to approach the defeat another way: by making an unflinching assessment of the deficiencies that turned a battle between two top-10-ranked Big Ten East Division title contenders into a laugher before the second quarter had even ended. 
With Penn State set to visit East Lansing on Saturday, Tucker is looking for his staff and players to avoid getting preoccupied with the emotional ups and downs of the season and instead to exhibit what he called "neutral thinking." 
"You take the emotion out of it, you take the judgment out of it, and you just go right to the facts, right to the truth," he explained. "You say, OK, what are the facts? What's the truth? What happened? Then you own it, and the information you have determines what you need to do next." 
One of the truths of Michigan State's 9-2 season is that its pass defense has been much too porous for the Spartans to stay unbeaten. Heading into the Ohio State game, they were allowing an FBS-worst 329 passing yards per game, and the Buckeyes might have doubled that number if they hadn't emptied their bench in the second half. Playing a little over two quarters, quarterback C.J. Stroud completed 32 of 35 passes for 432 yards and six touchdowns, leading Ohio State to the end zone on its first seven possessions. 
Stroud's huge day called to mind what Purdue's Aidan O'Connell did in Michigan State's other loss this season. O'Connell threw for 536 yards, and the Boilermakers prevailed, 40-29, on Nov. 6, stunning the Spartans just a week after their rousing 37-33 comeback victory over Michigan. 
Opportunities abound
And now comes Penn State. In the Nittany Lions, Michigan State will be facing an opponent that boasts some proven playmakers in the passing game but hasn't displayed the ability to do what Purdue and Ohio State did, in part because of an array of health problems that may not be entirely behind them. The Lions have topped 40 points just once this season – a 44-13 victory over Ball State in Week 2 – and have averaged 18.8 points in their eight conference games.
With Michigan State surrendering 463.4 yards and 25.5 points per game to rank 14th and 11th, respectively, in the Big Ten, the regular-season finale may offer Penn State an opportunity to find the rhythm it has lacked on offense all season. 
But there's an opportunity for the Spartans, too. Penn State is eighth in the Big Ten in total offense (381.5 ypg) and seventh in scoring (26.2 ppg), and its intermittent struggles figure to give Michigan State a chance to move on from last week's dismal showing.   
'There's a lot at stake'
"We're at the end of November here, and there's a lot at stake," Tucker said. "So that's our mindset. I know that Penn State is very well coached, they have some really good players, some difference-makers, on both sides of the ball and on special teams. So we're going to have to be at our best. We're going to have to play complementary football. We didn't do that this past Saturday, so we have a lot of work to do.
"But that's why we practice. That's why we meet and that's why we prepare. It's a challenge, and we're up for it. We're built for it. Personally, I really like a challenge. I really embrace challenges, and so do our players and staff. We're competitors, and we're in a position to go into our stadium one last time this season and get the job done. That's our sole focus."