Top Penn State target announces decision date; four-star linebacker puts Lions in top three: Newsstand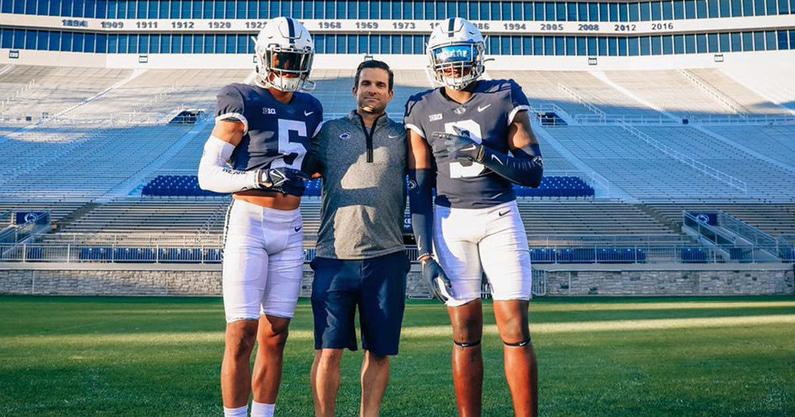 Penn State football news, notes, and updates for June 21 include updates from two of the program's top Class of 2023 linebacker targets. Those announcements headline today's rundown, which also includes can't-miss headlines of the day and a tidbit about a new Class of 2025 offer that is out.
Here are the top tweets and headlines about Penn State and college athletics on Tuesday.
Penn State tweets of the day
We start with Tony Rojas. The Fairfax, Va., four-star linebacker who is fresh off a Penn State official visit will make his choice known on Tue., July 5. His list of finalists includes Georgia, Clemson, and Miami. While the Tigers and Hurricanes both made the graphic announcing his announcement date, all signs point to this being a Bulldogs-Nittany Lions battle.
Rojas, who is a top-150 player according to the On3 Consensus player rankings, will be in Athens for his final official visit of June this weekend.
Next, we flip the focus to another four-star linebacker. Pittsburgh Brashear standout Ta'Mere Robinson is making his choice known on July 15. He has also now revealed who is still in the running ahead of that date.
Penn State made the cut along with Miami and Virginia Tech. Robinson has taken official visits to all three schools. With no other trips planned, it's now time to sit down, weigh all the pros and cons, and decide. As of Tuesday morning, Penn State leads in the On3 Recruiting Prediction Machine.
Finally, for this section, Penn State has a new 2025 offer out. It went to Kahlil Stewart on Monday. The 6-foot-4, 280-pound junior-to-be plays at Philadelphia Roman Catholic.
Headlines of the day
After repairing relationship, LaVar and Keeno Arrington living 'surreal' father-son dream: Tribune News Service
PSU sets two midweek official visits before dead period: Snyder, BWI
'This guy looks different': Penn State's Smith Vilbert is a Lion to watch following his Outback Bowl outburst: Hockensmith, PennLive
John Harrar caps PSU career as Big Ten Medal of Honor winner: Bauer, BWI
Patrick Kraft's No. 1 Task: Stop Penn State's Freefall to No. 42 in the Learfield Cup Rankings: Poorman, Statecollege.com
The weekly rundown: PSU recruiting, offseason work is full steam ahead as June rolls on: Pickel, BWI
What's Trending at Penn State?: Wogenrich, SI
Q&A: Four-star OL Evan Link opens up about Penn State official visit and upcoming plans: Snyder, BWI
Quote of the day
"I would say that everywhere I'm looking at, Penn State, Stanford and Michigan, all have a great balance of really good academics and a pretty high-level football. Currently, the way I view it, obviously, you'd have to put Stanford on that higher tier. They are a little bit better in the academic department. That has its own trade-offs on the football side, absolutely.
"Those arguments can be made. But as of right now, personally, academics are still a huge, huge factor for me, and I would say that Penn State and Michigan are kind of similar in my mind. I think they both give me a great opportunity to get a degree in some form of engineering that's going to be a recognized top 25 degree in those fields. That's really all that matters."
–Four-star OT Evan Link to BWI's Ryan Snyder.