Watch: Future Penn State tight end Luke Reynolds perform at Elite 11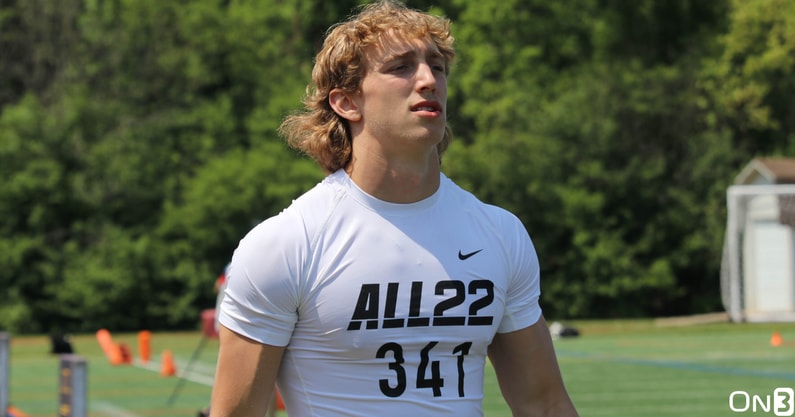 Future Penn State tight end Luke Reynolds made his way to Central Pennsylvania this past weekend for the Elite 11 Regional Camp at State College High School. In addition to hosting the nation's top quarterback prospects, Reynolds was among 40 of the nation's top skill players who also worked out in what the Elite 11 has branded 'All-22.'
Working alongside former Penn State tight end Adam Breneman, the Cheshire Academy prospect was easily one of the top pass catchers in attendance, pulling in multiple contested catches during one-on-ones. However, it wasn't just what he did catching the ball. Between the Elite 11 and the UC Report Camp in New Jersey a few weeks ago, Reynolds has posted some impressive testing numbers, including a sub-4.6-second 40-yard dash, a sub-4.3-second shuttle and a vertical jump of 38 inches.
Not bad for a former quarterback.
"I played both, but mainly tight end as it progressed. For the first game, I was just playing quarterback. During the second game is when we started switching back and forth. We had another quarterback on the team, Drew Hall, who's committed to Navy. He was also a senior," Reynolds said in an interview following his Penn State commitment.
"So, every time I was in at quarterback, he would go play the H-Back or tight end position. Then, we'd go vice versa and he'd go to the quarterback position and I would try H-back or tight end. We saw a lot of positive things when I was at tight end, so we just kind of kept it going from there. By the end of the season, I was playing the majority of my time at tight end."
Reynolds' efforts Sunday also earned him an invitation to the Elite 11 Finals in Los Angeles next month. In addition the nation's top 20 quarterbacks, Reynolds will join the nation's top skill players participating in a national All-22 event. The event will take place June 14-16. Reynolds will be joined by Penn State's future quarterback, Ethan Grunkemeyer, who also earned an invite to the national event.
Following a big jump in 247's ratings on Monday, Reynolds is up to No. 548 nationally in the On3 Industry Ratings. We expect his ranking to only improve in the months ahead.