What is Penn State's football identity? BWI Mailbag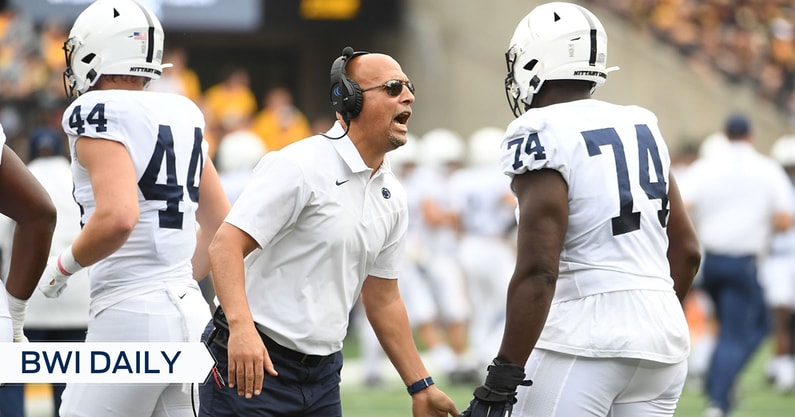 Each week the BWI Daily Edition opens up the mailbag to answer questions of Blue White Illustrated's staff. Today host Thomas Frank Carr and reporter Greg Pickel tackle questions about Manny Diaz's scheme, Penn State football's identity, and more.
How does Penn State best develop its young QBs this year?
One of the questions they take to start the show deals with the quarterback situation. Penn State struggled last year to get two players at the position ready and faced the consequences of that in the team's loss to Iowa. How do they fix that this year? Penn State has three young quarterbacks in Drew Allar, Beau Pribula, and Christian Veilleux, representing a positive future for the program. T-Frank and Greg take different approaches to the question and how Penn State can approach the situation on the field and in practice.
Another BWI message board member wants Pickel and T-Frank to pick a player they think will be most improved from last season. The writer picks tackle Caedan Wallace and Coziah Izzard as their offensive and defensive nominees. To make things interesting, the duo selects different players, despite agreeing with the pick of Wallace.
Do the Nittany Lions have a football identity?
What are reasonable expectations for Nick Singleton and Kaytron Allen? That's what another message board member wants to know. Is the hype too much? Or can the duo be the starters in the season's first week? Pickel and T-Frank agree that they'll have a role but don't think either will unseat starter Keyvone Lee right away. Though, Pickel is high on their collective impact.
Finally, they field other questions dealing with everything from Penn State's identity to Manny Diaz's scheme and even get a question about major league baseball.
---
Penn State Football Preseason Primer: Linebackers
Part of assessing any position for the upcoming season is determining where that position is coming from. On the surface, the Penn State linebackers are in a tough situation heading into 2022. They're losing two multi-year starters in Ellis Brooks and Brandon Smith, the latter who the Carolina Panthers drafted in the fourth round of the NFL Draft this spring. They also lost hybrid player Jesse Luketa, who spent most of his time at EDGE. Still, he was the primary backup to Brooks at middle linebacker. 
But Curtis Jacobs, a rising talent in the program, steps into the spotlight for the Nittany Lions in Manny Diaz's new system. However, that system seems tailor-made for Jacobs, who blends well with the aggressive, attacking defense that allows its players to play with speed and violence. The 6-1, 230-pound former high school safety and wide receiver could have a massive season for the Nittany Lions this fall. 
Check out BWI's season preview of Penn State's linebackers here.
Not a member? Get 12 months of premium content for just one dollar.