What they're saying about Penn State coach James Franklin new 10-year deal with the Nittany Lions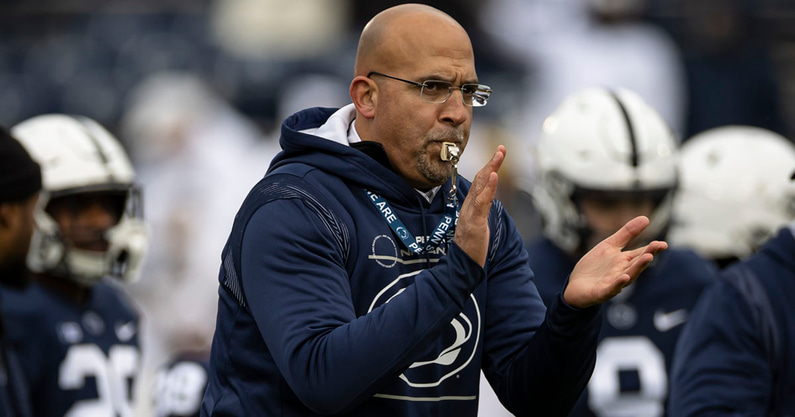 Penn State and James Franklin have again agreed to a new deal.
The Nittany Lions announced a 10-year contract on Tuesday. It keeps the eighth-year leader of the program in State College through 2031. Franklin is guaranteed at least $85 million if he finishes the agreement. There are performance bonuses, too, and a national title would trigger an $800,000 pay increase.
Talks began between the two sides about nine weeks ago, Franklin said. That, roughly, aligns with when USC fired Clay Helton. Franklin has long been linked to the Trojans job as a candidate, of course. That is now off the table.
Reaction to the news has poured in from all corners of the Penn State, college football, and sports universe.
Here is a look at what is being said about the big announcement.
James Franklin's first statement on new Penn State deal
Franklin will address reporters Wednesday night.
In released comments, Franklin spoke about the deal creating a "roadmap" for future plans and investment in NIL, academic support, facility improvements, player housing, recruiting, health and safety enhancements, plus more. He added that "leadership council, recruits and staff" were updated throughout the process that culminated with Tuesday's news.
"This renewed commitment to our student-athletes, community and fans reinforces all the reasons I've been proud to serve as your head football coach for the last eight years and why my commitment to Penn State remains steadfast," Franklin said.
What Sandy Barbour is saying about James Franklin's 10-year Penn State deal
"We have made, and will need to continue to make, significant investment in our football program because we believe we have a very bright future under James," Barbour said in a released statement.
"With this contract, we are signaling our sustained commitment to being one of the premier programs in the history of college football."
Subscribe to On3 today for just $1 for a yearly subscription to BWI
What national reporters are saying
Pundits and college football observers had plenty to tweet moments after the deal was announced, which was around 4:30 p.m. ET.
On3 founder Shannon Terry was also a fan of the move.
Not everyone is a fan, though
There was a lot of good to be said, however, some took the opportunity to take a shot at Franklin's in-game struggles over the years.
Others, like longtime Philadelphia radio personality Howard Eskin, were more pointed.
Then, there are never-ending 'what if' questions for Franklin.
Who really won across the sport? Here's one take:
Past, future Penn State players weigh in
Micah Parsons has a thought. So, too, do Class of 2022 commits Drew Allar and Ken Talley.
Read more comments from commits who spoke with BWI's Ryan Snyder here.
Penn State returns to action on Saturday at Michigan State. ABC will televise the game, which starts at 3:30 p.m.