Mark Hagen will join Jeff Brohm's Louisville staff after Citrus Bowl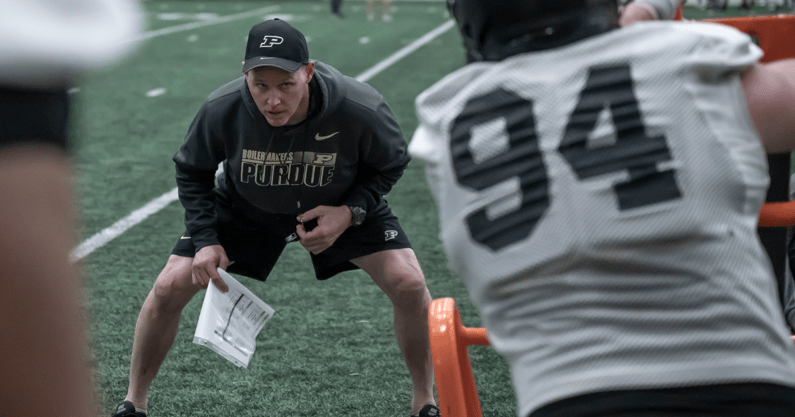 Purdue will lose one of its most impactful and popular assistant coaches with Mark Hagen planning to depart to join Jeff Brohm's staff at Louisville, according to sources.
Hagen will remain with the Boilermaker staff through the Cheez-It Citrus Bowl vs. LSU on Jan. 2 in Orlando. Hagen will call the defense vs. the Tigers. He then will then depart for Louisville, where former Purdue staffers Ron English, Chris Barclay and Garrick McGee already are working for Brohm. More remaining Boilermaker assistants could join Brohm.
Brohm hired Hagen at Purdue prior to the 2021 season after the Tom Herman Texas staff that Hagen had been a part of was dismissed. While at Purdue the last two seasons, Hagen has developed some strong lines that have been among the best units on the team. In 2021, Hagen helped groom end George Karlarftis into a first-round selection in the 2022 NFL draft (30th overall to Chiefs).
In addition to being a good coach, Hagen is known for his ability to recruit. While at Purdue, he signed standout Nic Caraway in 2022 and had assembled a strong collection of linemen in the 2023 class. But that group is splintering amid the coaching tumult at Purdue. Two of the five linemen who committed to Hagen already had de-committed and pledged to Louisville: Saadiq Clements and Micah Carter. Drake Carlson, Kendrick Gilbert and Will Heldt remain committed to Purdue.
Hagen originally came to Purdue in 2000, hired by the late Joe Tiller. After Tiller retired following the 2008 season, Hagen stayed on staff under Danny Hope until 2010. Hagen then matriculated to Indiana (2011-12) before going to Texas A&M (2013-15), back to Indiana (2016-18) and then to Texas (2019-20). His first full-time coach job was at Northern Illinois (1996-99).
Hagen played linebacker at Indiana (1987, 1989-91) for the late Bill Mallory. He was a two-time second-team All-Big Ten selection, three-time Academic All-Big Ten winner, 1992 Big Ten Medal of Honor recipient and a captain.
• PURDUE COACHING HOT BOARD 3.0
• Gold and Black Radio: Purdue job search marches on
• Day six: Purdue's search for football coach
• Purdue AD Mike Bobinski wants to conclude football coach search as 'quickly as we can'