'It hurts bad' No. 16 seed FDU bounces top-seeded Purdue from NCAA tournament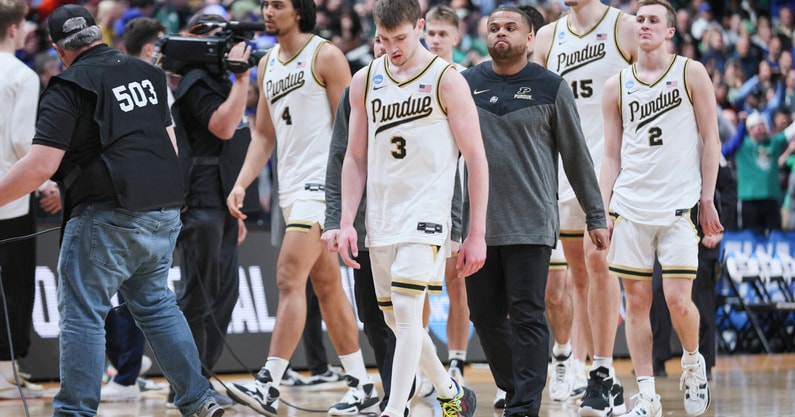 COLUMBUS, Ohio – For the second straight NCAA tournament, a private school from New Jersey bounced Purdue from the postseason.
Only this time, the run through the tournament never got started.
FDU became the second No. 16 seed to upset a No. 1 seed Friday night, taking out the third-ranked Boilermakers 63-58 in first-round action at Nationwide Arena. No. 1 seed Virginia was beaten by No. 16 seed UMBC in 2018, one year before winning the national championship.
Last year, Purdue was ousted by No. 15 seed Saint Peter's in the Sweet 16 in Philadelphia. From the start, it was easy to see the Boilermakers were in trouble, and escaping the first round was going to be a struggle.

And it was.
"It's hard, It's a really hard thing," Purdue coach Matt Painter said. "We worked very hard and done things the right way in our program. I think six straight years we've been a top five seed. That's all you try to do. You just try to fight to get in the best position possible.
"And now we get in the best position possible and this happens. Obviously, it hurts. It hurts bad."
Friday marked the third-straight NCAA tournament the Boilermakers have been eliminated by a double-digit seed – No. 13 North Texas (2021), No. 15 Saint Peter's (2022) and No. 16 FDU (2023).
"We take it as it is – a loss is a loss. It happens and they got us," freshman point guard Braden Smith said.
After the victory over Texas Southern in Wednesday's play-in game, video from inside the locker room from Knights coach Tobin Anderson declaring that he wanted "Purdue to see this"
"I walked into breakfast this morning and what did you say to me, Kam (Murrell, one of his assistant coaches)? 'The more I watch Purdue, the more I think we can beat them.' Let's go shock the world."
Consider the world shocked.
"What a night. Incredible win for us. Incredible win for our program, our school. Hard to put it in words right now. Honestly, it's really hard to even — it just happened, right?" Anderson said.
"But I think unbelievable credit to Purdue. That's a Big Ten powerhouse and what they do there is incredible. I kind of felt bad the last couple of days about what I said in the locker room because it was almost a slight to Purdue. I have unbelievable respect for Purdue. For us to beat them, in this environment, it was just an incredible win for us."
The Knights' quickness was too much for Purdue to handle as they penetrated in the lane and found teammates cutting to the basket, scoring 18 of their 32 points in the paint. They also drained step-back 3-pointers from different spots on the perimeter.
The Boilermakers didn't take full advantage of their size, including Zach Edey, against the shortest team in Division I. Purdue preferred to shoot 3-pointers, going 2 of 11 in the first half and 5 of 26 for the game, putting more stress on its defense to contain FDU's dribble penetration and fast-paced offense.
"When teams decide to go out and do that defensively you've got to step up and knock down a shot," said Fletcher Loyer, who finished with 13 points and was 3 of 8 from 3-point range. "Obviously 5 of 26 isn't what we expected. It's not what we've worked for. It's not a product of the work we've put in.
"But when they crash in the paint so hard and don't let us throw it in or over the top, it's just my eyes open wide up ready to knock down a shot. Then it comes to me every time and we just didn't knock down shots."
Turnovers, a problem most of the season, cost the Boilermakers. Smith provided a spark on offense but also committed five of his seven turnovers in the first half. While the Knights didn't convert all of those into points, they took away scoring chances for Purdue.
A 10-0 run gave the Boilermakers a 47-41 lead, but the Knights answered with an 11-3 spurt to keep the pressure on. Purdue was never comfortable playing against FDU, which was the aggressor all night.
But the Boilermakers couldn't score down the stretch, hitting 3 of 15 field goals in the final 10:57. It was another loss where the 3-point shooting never got on track.
"It's frustrating," Painter said. "I think it kind of just mounted for us and it got worse at time just because I think we shot one out-of-rhythm 3 in front of me, maybe another one.
"They stay in there on (Edey) and they don't even contest. We're taking wide-open shots from some guys that can shoot the basketball, and that's kind of been the case for us the whole year."
Edey finished with 21 points and 15 rebounds and Mason Gillis totaled 10 points an seven rebounds.
Columbus native Sean Moore scored 19 points to pace the Knights. Moore also delivered a key block, rejecting Smith's layup attempt with 12.5 seconds with FDU holding a three-point lead. Loyer missed a 3-pointer from the corner on the inbounds play and Purdue's season came to an end.
PDF: FDU-Purdue stats