Purdue Basketball Game 4 Preview: West Virginia at the Phil Knight Legacy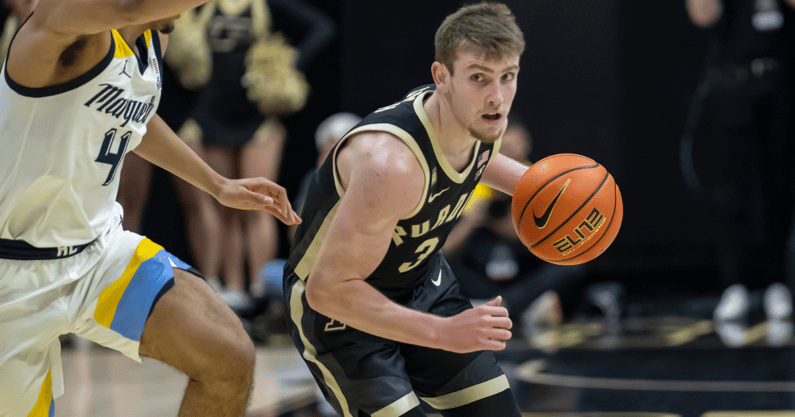 PORTLAND — Purdue's again part of one of the non-conference season's premier events, the Phil Knight Legacy in Portland. The Boilermakers open play in Rip City tonight against frequent early-season opponent West Virginia. Here's our full preview.
Where: Veterans Memorial Coliseum (Portland)
Event: Phil Knight Legacy (Bracket)
When: 10 p.m. ET
TV: ESPN2
Radio: Purdue Sports Network (WAZY locally)
In-game updates: GoldandBlack.com | Twitter @brianneubert
ABOUT THE TEAMS
Purdue: Roster | Schedule | Stats
West Virginia: Roster | Schedule | Stats
NUMBERS AND SUCH
ON PURDUE (3-0)
• This will be Purdue's fifth meeting with West Virginia since Jan. 1, 2010, with the Boilermakers being 3-1 in that span. The two programs have also conducted private scrimmages against one another in addition to those two home-and-home series. Purdue leads the all-time series 9-1.
PROJECTED PURDUE LINEUPS
Starters
Center — 15 Zach Edey (7-4, 290, Junior)
Since a strange offensive showing in Game 1, Edey's played at an extremely high level in pretty much every way since. He's scoring efficiently, he's rebounding the best he ever has, he's defending the best he ever has and he's making all the right passes and decisions in his role as Purdue's centerpiece. He needs the ball more, Matt Painter says.
Forward — 0 Mason Gillis (6-6, 230, Junior)
Gillis hasn't made threes yet and sort of took a backseat to others against Marquette, but if Purdue's going to match the tenacity it expects to see from West Virginia, one would think Gillis would have to be part of that equation. The glass looms large, too.
Guard — 3 Braden Smith (6-0, 180, Freshman)
The freshman point guard hasn't been perfect, nor should he have been expected to, but he has imposed his will on games, made shots, made hustle plays and just taken command for Purdue. West Virginia will again challenge him, but he's been up to every challenge to this point. His marching orders in Portland will be to get the ball inside to Zach Edey.
Guard — 2 Fletcher Loyer (6-4, 185, Freshman)
Loyer's not really hit his stride as a shooter yet, but he's playing a strong floor game, getting the ball inside and making some tough shots. The jumper will become more consistent in time.
Guard/Forward — 25 Ethan Morton (6-7, 215, Junior)
Not surprisingly, Morton's leading Purdue at an average of four assists per game, reflecting Purdue's success in halfcourt offense with him as a lead passer and decision-maker. The time's now come, too, for Morton to start meeting some really important matchups as a wing defender, probably Emmitt Matthews on Thursday night.
Rotational Reserves
Guard — 5 Brandon Newman (6-5, 200, Junior)
Newman's given Purdue a scoring edge that it might not otherwise have, attacking in transition and knocking down pull-ups off closeouts. Purdue would like to get him more clean looks from three. He really gave a great effort on the glass against Marquette, too.
Forward/Center — 1 Caleb Furst (6-10, 230, Sophomore)
Like Gillis, Furst isn't (yet) making threes, but his energy is impacting games very tangibly. He made a handful of just special effort plays against Marquette.
Forward/Center — 4 Trey Kaufman-Renn (6-9, 225, Redshirt Freshman)
Purdue's going to try to get Kaufman-Renn in position to score, but for that to happen, he has to be on the floor. He's been called for a team-high-tying seven fouls in just 40 minutes.
Guard/Forward — 11 Brian Waddell (6-8, 195, Redshirt Freshman)
Waddell was on the floor to finish out the Marquette game, which spoke volumes about the trust Matt Painter had in him to make the right plays against pressure.
Guard — 14 David Jenkins Jr. (6-1, 200, Senior)
Jenkins has proven to be quite a get for Purdue, as his energy and toughness and charisma have mattered for his new team; he's done a solid job as a secondary ball-handler; and he's made shots.
Guard/Forward — 23 Camden Heide (6-7, 205, Freshman)
Heide is under consideration for a redshirt, taking a few games to observe and make a decision, per Matt Painter. He won't be playing in the meantime.
Note: Freshman center Will Berg will redshirt this season.
ON WEST VIRGINIA (4-0)
• The Mountaineers are a fine reflection of modern college basketball, as Bob Huggins has pieced a team together largely through the transfer portal, making for an extremely experienced team but one that's hardly played together to this point.
West Virginia will likely start four transfers and a former junior college player against the Boilermakers, with a few more transfers coming off the bench. Per KenPom, West Virginia returned only 17 percent — Purdue: 37.8 percent — of its minutes from last season.
• The Mountaineers have played one high-major opponent thus far and hammered Pitt on its home floor, 81-56.
• West Virginia is shooting 51 percent as a team thus far this season.
WEST VIRGINIA LINEUPS
Guard — 10 Erik Stevenson (6-4, 205, Senior-5)
The South Carolina transfer averages a team-best 14 per game and is 8-of-15 from three.
Forward — 3 Tre Mitchell (6-9, 225, Senior)
Formerly of Texas, Mitchell's scored in double figures in three of four games this season, making two-thirds of his field goal attempts.
Guard — 0 Kedrian Johnson (6-3, 185, Senior-5)
The Temple College transfer has collected eight steals already this season.
Forward— 1 Emmitt Matthews (6-7, 210, Senior-5)
The Washington transfer goes way back with Purdue's David Jenkins, as both grew up in Tacoma and now meet as opponents in Portland. He's averaging better than 10 per game for his new team thus far.
Center — 15 Jimmy Bell Jr. (6-10, 285, Senior)
The big man and former JUCO transfer is a native of Saginaw, Mich. He'll get first crack at guarding Zach Edey.
Bench
Guard — 5 Joe Toussaint (6-0, 190, Senior)
The Mountaineer player Purdue knows best, Toussaint played against the Boilermakers the past three years while at Iowa. His quickness will test the Boilermakers' defense against the dribble.
Forward — 11 Mohamed Wague (6-10, 225, Sophomore)
A transfer up from Harcum College in Pennsylvania is another big body that'll allow Huggins to throw a couple different guys at Edey.
Guard — 2 Kobe Johnson (6-3, 210, Sophomore)
Forward — 32 James Okonkwo (6-8, 240, Sophomore)
THREE KEYS FOR PURDUE
| | | |
| --- | --- | --- |
| handling pressure | matching effort and energy | rebounding |
| Marquette was a great primer for this game, because West Virginia will really be aggressive and physical on defense. No red flags here, but always a concern. | You pretty much know what you're going to get from Bob Huggins teams. It's about matching it, if not exceeding it. | Since being outrebounded by Marquette, Purdue has kept its mind on the boards. Here's guessing this normalizes, but WVU does have size and motors so there will be no pushovers here. |
LIGHTNING-ROUND TAKES
• It's funny how things work out in the transfer era. When Purdue played Iowa the past few years, Joe Toussaint was a real concern, but generally fourth, maybe even fifth, on the priority scale. Now, he may be the guy Purdue most has to slow down. It'll help that Purdue knows him so well, but the context around him has changed.
PREDICTION: PURDUE 72, WEST VIRGINIA 68
As much of an unknown commodity as Purdue is, West Virginia has to be considered even more so. Zach Edey should loom large here, and the Boilermakers' guards have showed little shakiness against pressure so far.