What's next for Purdue's Zach Edey? 'I've got to make the best decision for me'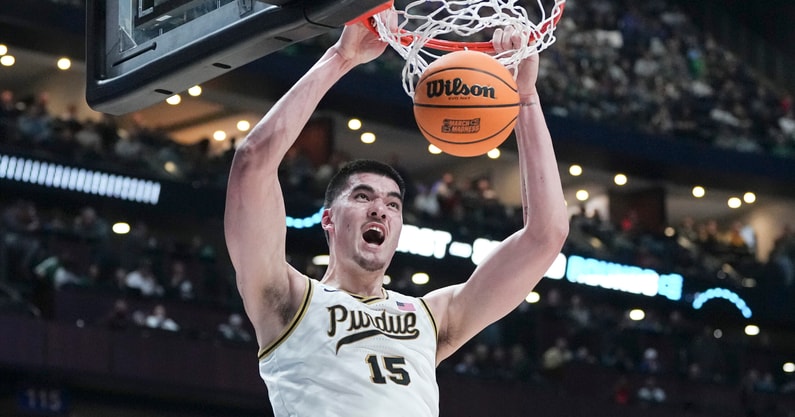 COLUMBUS, Ohio – Here's the hard part facing Zach Edey following Friday night's exit from the NCAA tournament.
He has no idea if he played his last game at Purdue.
A million things were going through Edey's mind following the 63-58 loss to No. 16 seed FDU at Nationwide Arena and processing what's next is going to take time.
Edey walked off the floor with a mixed bag of emotions – anger, sadness, and stress. There were probably a few other thoughts he didn't mention.
"Every negative emotion you could think of," said the 7-foot-4 junior, who totaled 21 points and 15 rebounds but was surrounded by two or three defenders most of the game.
Regarding his future, Edey doesn't have a timetable and was honest about the factors involved in making the decision.
"If there was no money involved, I would stay at Purdue in a heartbeat," he said.  "I've got to make the best decision for me."
The odds-on choice for National Player of the Year, who is already a consensus first-team All-American, has to filter through the next steps and weigh them against returning to the program.  
"For me, we would love to have everybody back," junior Ethan Morton said. "You guys know how I feel about Zach. I've talked about him at length all year. That's my brother and I love him to death. When the time is right, and after he's taken time to sort through all of his emotions he'll make a decision that's best for him."
Edey truly enjoyed playing this season, despite the physical play that led to scratches on his arms on a nightly basis and frustrating moments with officials. He was genuinely happy throughout the season and the chemistry he's built with his teammates and coaching staff is a real bond that might be hard to let go.
"It's tough, man. I've never been in a better locker room I've never been surrounded by better teammates," Edey said. "I love every single guy in this locker room more than I've ever loved anyone in any locker room."
And trust Edey when he says the upcoming decision is difficult.
"It's not something I'm just saying," he said. "I really love everybody in this locker room, and I want to come back, and I want to go to war with them, but at the end of the day, like I said, I have to make the best decision for me.
"It's tough. I love these guys. I'm someone who is pretty shy in general, and these guys have taken me in. You show up every day in practice, and you're happy."
Fletcher Loyer, who added 13 points in Friday's loss, is ready to support Edey whatever decision he makes.
"I did tell him after the interview in there that whatever he does I'm going to support him," Loyer said. "We're pretty good friends off the court, and we have a great relationship. He's a brother to me now.
"He's got such a great personality. He's so unselfish, and he's an easy guy to get along with. He's so damn good, and he's a cool guy off the floor."
Purdue coach Matt Painter said Edey will gather all the information and come to a decision.
"He's pretty simple in things," Painter said. "But it's not me. His parents are great. The people around him are great. He's a good dude. It's too bad. He deserves better than this. He deserves better."