Ryan Walters' 'Air Strike' Purdue defense has its own identity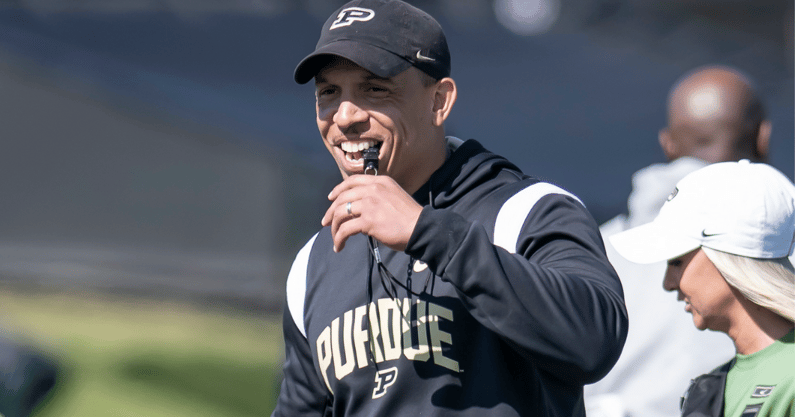 Ryan Walters has been asked often since taking over Purdue: "What do you call your defense?" It's a question that's difficult to answer.
It's not a 4-3 alignment, or a 3-4. And, no, it isn't a 4-2-5, or even a 5-1-5.
It definitely isn't 1/4's, or 1/4-1/4-1/2, or Cover 3, or Tampa 2, or even man-free, as you know it. It has its own entity.
It's called the "Air Strike."
"I can validate its uniqueness because I was one of the original architects," said Walters. "Myself, David Gibbs, Brick Haley, Vernon Hargreaves, Sam Carter and Grant O'Brien were all there at Mizzou when we laid the foundation."
Walters understood three games into his first season as defensive coordinator at Illinois in 2021 that he needed to do what was best for the Illini program and go back to what he knew and fell in love with while running the Missouri defense (2018-20).
"We tweaked the defense," he said. "We had fun, won games and made history. We played dang good defense. Myself, Kevin Kane, Andy Buh, Aaron Henry, Terrance Jamison, Grant O'Brien, Joe Dineen, Preston Gordon, Ryan Simerson, and Alex Panos took the 'Air Strike' to another level."
Walters and his defensive staff built a unit that was the backbone to Illinois' success the past two seasons, peaking with an 8-5 record, ReliaQuest Bowl bid and second-place finish in the Big Ten West in 2022.
How far did Walters take the Illini defense during his two-year run in Champaign as coordinator? He inherited a unit that ranked 97th nationally in scoring (34.9) and 114th in yards allowed (466.8) in 2020 and flipped the script.
In Walters' first year in Champaign, the Fighting Illini defense ascended to 29th (21.9) and 49th (367.0), respectively, in scoring and yards allowed. In 2022, the numbers were even more impressive, as Illinois led the nation in scoring (12.8) and was No. 3 in yards allowed (273.5).
Three defensive backs from the 2022 Illini squad were selected in the first 66 picks of the 2023 NFL draft: Devon Witherspoon (first-round, 5th overall), Jartavius Martin (2nd/47th) and Sydney Brown (3rd/66th).
Now, as Walters enters his first season at Purdue, he's looking to take the Boilermaker defense to another level, with the "Air Strike" defense working in concert with Purdue's "Air Raid" offense.
"I can't wait to see the defense I've helped build, orchestrate and conduct flourish here at Purdue," he said. "It's in great hands with Kevin Kane and this defensive staff. It's fitting that the 'Air Strike' calls one of the nation's top aviation schools its home."