Live Updates: SMU vs. Tulane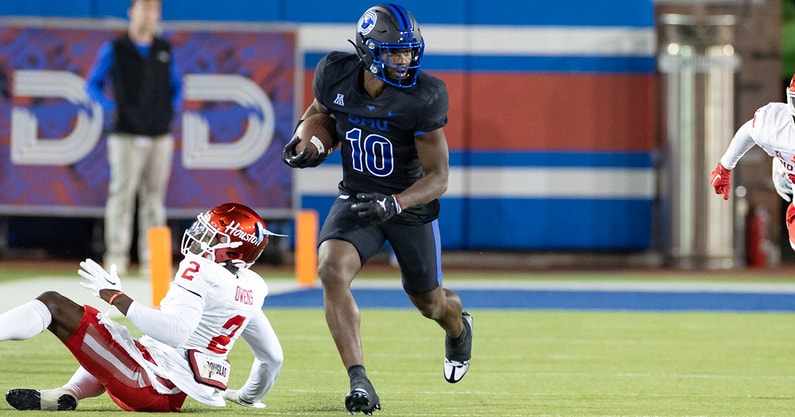 SMU Football is battling Tulane on ESPN on Thursday, looking to win a fourth straight game. The Green Wave are trying to bounce back from a 38-31 loss to UCF last week, the first loss for Willie Fritz' team in AAC play.
Follow the live blog below for key plays, scores and more.
1st Quarter
SMU got the ball to start. Tanner Mordecai opened up with a pass and hit Dylan Goffney for a big gain to the 45. Camar Wheaton ran three straight times, bringing up a 4th down after a tackle for loss on 3rd and 3.
A long run by Tyjae Spears got Tulane out from its 19 to the 41. SMU had held defensively on a 3rd and long, but a facemask call extended the drive for the Green Wave into SMU territory. A rough injury to Terrance Newman delayed play for a few minutes. Tulane picked up the 1st down when play resumed. SMU held until a 4th and 1 that was picked up by Michael Pratt on a quarterback sneak. Two plays later, Pratt scored on the keeper to take a 7-0 lead.
After SMU picked up a 1st down, Tulane's defense locked in, helped by a Rashee Rice drop. The Green Wave took over and went right down the field for a touchdown. Aided by a long completion to Shae Wyatt and a huge run by Spears, Tulane punched it in for the 14-0 lead.
SMU went for it on a 4th down near midfield and Rashee Rice dropped a 1st down conversion. SMU's defense turned around and held, but a muffed punt by Roderick Daniels gave the Green Wave the ball at the SMU 7. Spears caught a swing pass for a touchdown to give Tulane a 21-0 lead.
2nd Quarter
SMU got the ball and was held to a stop. On the ensuing punt though, Jha'Quan Jackson muffed the punt, giving the Mustangs the ball. RJ Maryland caught a tipped pass from Tanner Mordecai to go in for the touchdown. SMU trailed 21-7 with 13:54 to go.
After a long kick return, Tulane went right in for the touchdown to make it 28-7. After the teams traded stops, SMU got the ball and went on a long drive before halftime. The drive stalled and Colin Rogers' 49-yard field goal attempt went wide.
3rd Quarter
Tulane opened with a long kick return to the SMU 45. Pratt opened with a run to the SMU 37. Spears carried for a 1st down to the SMU 26. Pratt completed a pass to Wyatt for the touchdown to go up 35-7.
SMU drove down the field and went for it on 4th down at the Tulane 18. Jordan Kerley dropped a pass from Mordecai that would've picked up the 1st down. Tulane took over and went 3-and-out. The Mustangs took over and fumbled, giving the Green Wave the ball.
Pratt and Spears capitalized to run it in, making it 42-7. After SMU turned it over on downs with an interception, the Mustangs allowed a deep touchdown to Tulane. The Mustangs responded with a long drive to close the gap to 49-14, thanks to an RJ Maryland touchdown catch.
4th Quarter
Pratt scored to open up a 56-14 lead. The Mustangs started a skirmish after that touchdown, resulting in flags flying. SMU drove down the field to answer with a field goal, to close it to 56-17. Tulane kicked a field goal to make it 59-17. SMU put the backups in and drove down the field, capped by a Roderick Daniels touchdown run to make it 59-24.
FINAL: Tulane 59, SMU 24.