BREAKING: Oklahoma State LB Kamryn Farrar commits to SMU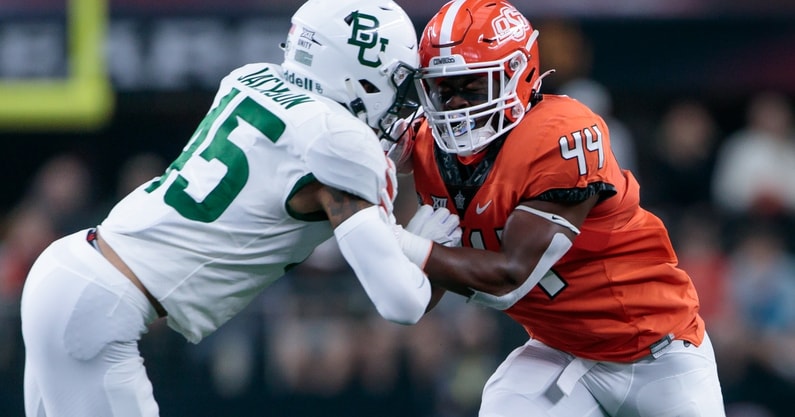 Former Oklahoma State linebacker Kamryn Farrar committed to SMU on Friday, he announced on Twitter. The former Dallas (Tex.) Skyline standout entered the portal late last month and has three years of eligibility remaining.
In three seasons at Oklahoma State, Farrar accumulated 20 total tackles and 2.5 sacks. His best season came in 2021, where he set career highs in every category. He was credited with 13 tackles, nine of which were solo tackles, and 2.5 sacks while playing mainly on special teams in 14 games.
A former three-star recruit in the class on 2019, Farrar was the No. 99 linebacker in the nation, according to the On3 Consensus, a complete and equally weighted industry-generated average. The linebacker was the No. 102 recruit in Texas, and the No. 799 overall.
SMU continues to roll with immediate help from Kamryn Farrar
With the portal, Rhett Lashlee's staff can address needs across the roster. The Mustangs will have to be creative, but there will be numerous new players on the roster come the 2022 season.
"Your roster is always a little depleted in the spring because you had your seniors and other people leave and you haven't brought all your new people in," Lashlee said after SMU's Spring Game. "Whether it's the 12 freshmen we've got that will show up June 1 or any transfers that we have coming in, there will be an influx of a lot of new faces and they need those guys to show them the way so they're not way behind in August.
"It's kind of a moving target. To be honest with you, we have spots. A lot of it depends on your current roster and how things move around on how many you can eventually add. At least 12 players for sure, because they signed, the freshmen. You're probably looking upwards of 15-20 people that aren't here on the team that will be here in either June or August."