SMU QB Tanner Mordecai named AAC Offensive Player of the Week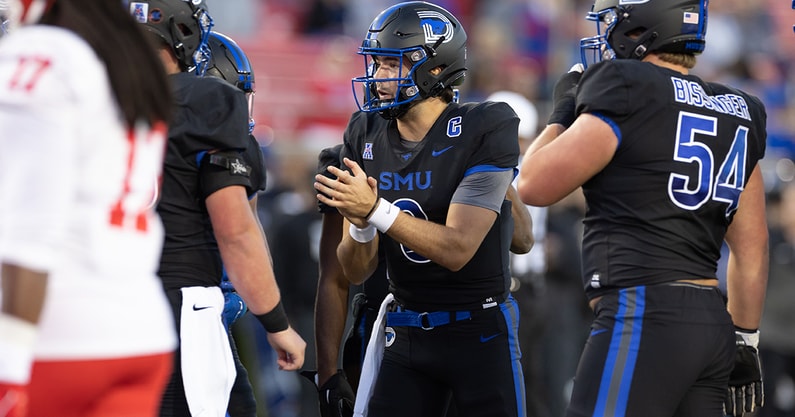 SMU head coach Rhett Lashlee and offensive coordinator Casey Woods landed On3's coordinator of the week honors after the 77-63 win over Houston on Saturday.
It's just the beginning of the honors rolling in as Mustangs quarterback Tanner Mordecai was named the American Athletic Conference Offensive Player of the Week on Monday.
Mordecai went 28-37 passing for 379 yards and nine touchdowns, while also going 8 for 54 yards rushing with a score. The nine touchdown passes and 10 total touchdowns responsible for were both AAC and SMU records, while the seven passing TDs in the first half tied the NCAA record.
According to ESPN Stats and Info, he is the only player in FBS history to have seven passing TDs and a rushing TD in a half.
"Everything clicked like it was supposed to," Tanner Mordecai told reporters after the game. "Coach Lashlee had a great plan for us and we executed at a high level. We had a good week of practice and we were ready to go."
Tanner Mordecai directs record-setting attack
Lashlee stayed aggressive calling plays for the Mustangs as Mordecai out dueled Houston quarterback Clayton Tune, who tried to keep pace. Mordecai & Co. moved SMU to within a win of bowl eligibility, which could be attained against lowly USF this weekend.
"I think we had a really good plan. I think our offensive staff, the run plan, the pass, everything was obviously, a good plan because it worked," Lashlee said. "You just sensed that we were going to have to score a lot. All I really thought was, 'Just stay aggressive.' Even when there was a minute and a half or two minutes left and we hit Kerley on the deep shot, you could never play like you were up two scores, you had to play like the game was tied at all times."
Tanner Mordecai now has an SMU-record 13 300-yard passing games and is top-10 in career passing touchdowns (2nd, 64), passing yards (6th, 128), completions (6th, 496) and total offense (6th, 6,429).
As a team, the Mustangs also set the SMU and tied the AAC records for points in the first half (56), set the AAC record for most combined points in a game and set the NCAA FBS record for combined points in regulation.
Mordecai and the Mustangs travel to Tampa, Florida, Saturday for an 11 a.m. CT match-up with USF.