D1Baseball explains why it's high on South Carolina in 2023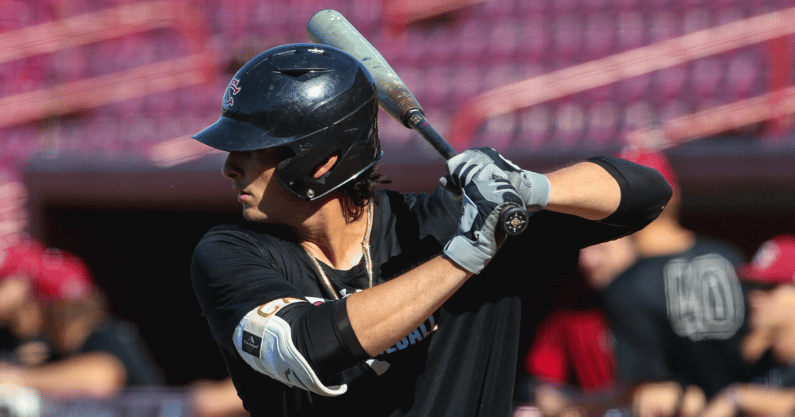 South Carolina baseball is looking for a big bounceback season in 2023 and at least one national media outlet is high on what the Gamecocks can do. 
D1Baseball ranked Mark Kingston's squad No. 23 in the preseason, one of nine SEC teams to make the cut. 
•Subscribe to Gamecock Central until Aug. 31 for only $29.99
Speaking on the D1Baseball podcast, the staff explains why it slotted South Carolina there. Then they went into detail about why the Gamecocks could finish even higher or potentially slip.
"If some of these variables hit in the positive I think the ceiling is pretty high for this group and you're looking at a team that might be able to host or maybe they're top 15. But if some of these things don't click, they're not going to be a top 25 team," D1Baseball writer Joe Healy said on the podcast.
"So 23 almost feels like a hedge that maybe doesn't feel quite right. I have a feeling that they're going to be better than this or not be this good. It's really anybody's guess on how it goes."
•Become a NIL supporter of your South Carolina Gamecocks!
The Gamecocks are coming off their first losing season this century and spent the offseason retooling its roster and some of the coaching staff. 
Monte Lee joins the fray as South Carolina's associate head coach and the Gamecocks also bring in a host of transfers to get this offense off the ground. 
Of the 10 players brought in via the transfer portal, seven were on the offensive side of the ball: Jonathan French (Clemson), Dylan Brewer (Clemson), Jacob Compton (Memphis), Caleb Denny (Oral Roberts), Chris Veach (Presbyterian), Will McGillis (Southern Miss) and Gavin Casas (Vanderbilt). 
It's not unrealistic to see at least three, potentially six, of those bats in the starting lineup on opening day. Veach is also a two-way player who could factor in on the mound. 
How those incoming bats translate to the SEC is a big key for this South Carolina team. 
• Subscribe (for free) to the Gamecock Central YouTube page!
"Most of those guys have a track record, but they don't have an SEC track record. To me, that's a big variable. It seems like it can really go either way. There are countless examples. We can sit here and go through it if we and the time. We have guys who came up from a lower level of Division I and go into the SEC and just rake, right? Hello, Sonny (DiChiara)," Healy said.
"He had great numbers at Samford and you just never know. He gets into the SEC and somehow was better, go figure. For every one of those we get one that just doesn't quite translate. I really like this group for South Carolina, but we have to acknowledge there is that variable there."
One of the big reasons the D1Baseball staff is high on South Carolina is because of a pitching corps Aaron Fitt called an "elite pitching staff."
Finding roles behind entrenched starters like Will Sanders and Noah Hall is imperative. But the makings of a deep staff are there. Fitt, one of D1Baseball's staff writers, called freshman right-hander Eli Jerzembeck "utterly electric." 
"You're going to get to know this (Jack) Mahoney kid coming off injury. He's got a huge arm. Noah Hall, I don't know why people don't know Noah Hall yet. He's good. It's going to be an elite pitching staff, an elite pitching staff. You can book it," Fitt said. "The reason I'm so bullish on the Gamecocks is cause I'm all in on the pitching staff."
• Get South Carolina baseball news and analysis via email
Fitt likes the additions South Carolina made offensively through the portal and is interested to see how those mix as the season begins. 
"They did what they needed to do following the A&M playbook to bolster the lineup with older, physical, mature guys who take good at-bats and have some thump," Fitt said. "To make sure they're capitalizing on a year where they have what I think could be an Omaha-caliber pitching staff. They needed to make that lineup better. It doesn't need to be an elite lineup. We'll see if they've done that. But I'm pretty optimistic on this team."