Dawn Staley pays homage to former South Carolina players during national championship parade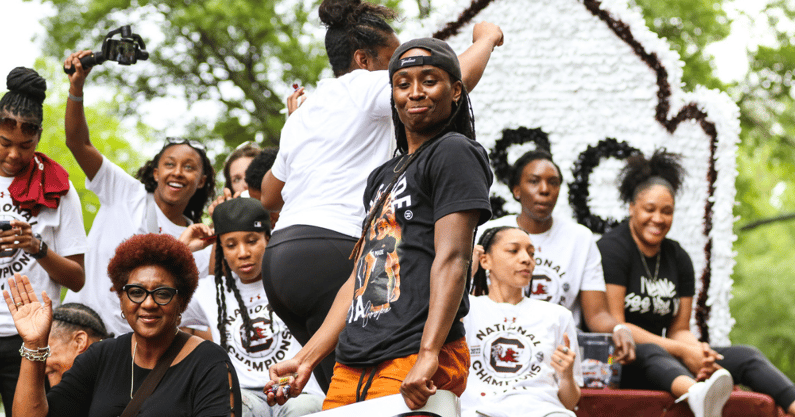 It doesn't matter what the sport is, you hear it all the time from college coaches: former players are always welcomed back. That's a cute, feel good phrase programs like to use but the reality is, that's not always the case.
South Carolina women's basketball doesn't fall under that category of just talking about. They are about it.
As the Gamecocks celebrated their second national championship in five years on Wednesday night, not only was this year's squad in the parade, but former players were featured in it as well.
"That's the legacy they left, for us to win national championships," Staley told Gamecock Central as she was being escorted to her ride, following the parade.
A dozen former Gamecock players returned to be in the parade including Khadijah Sessions and Tina Roy. Staley made sure to make them feel right at home. The two-time national champion coach provided a special float dedicated to the former players to ride on with many sporting the same championship shirts the team received moments after beating UConn in Minnesota. so that they could experience the day as well
"It's special they they wanted to come back. But it's also special that we're just one big Gamecock family and anytime we're doing something we want to pay homage to those who came before us and they had a really good time."
In addition, Gamecock legend Sheila Foster was also on-hand to enjoy the parade with the team. According to former Gamecock guard Markeshia Grant, Foster was handing out ring pops and yelling, "put a ring on it."
Grant gave a fantastic behind the scenes look at what the day looked like through the former player's eyes in a thread she created on her Twitter account.

One thing is for sure, Staley gets it. Regardless of how many titles USC is able to win in the coming years, she'll never forget about the players who helped create the foundation for this program. That's how you build a winning culture.
---
GamecockCentral.com, now on the On3 Network, is your one-stop source for complete, in-depth coverage for South Carolina Gamecocks Athletics!
Click here to subscribe to Gamecock Central today with a 7-day free trial!
It's your risk-free opportunity to try – or retry – Gamecock Central.
You'll receive the most in-depth, accurate, and professional coverage of Gamecock sports + recruiting
You'll get scoop from our full-time insiders/reporters: Chris Clark, Wes Mitchell, Collyn Taylor, Mike Uva
You'll read about and discuss the Gamecocks on The Insiders Forum, our passionate community of fans
Always informed!
Always entertained!
** You can cancel or pause your membership online at any time of the day or night without going through the hurdles of emails, online chats, or calls to a customer service group.
If you're a current Gamecock Central subscriber and need help with anything or have any questions, please let us know: [email protected]