Deangelo Gibbs grateful for opportunity at South Carolina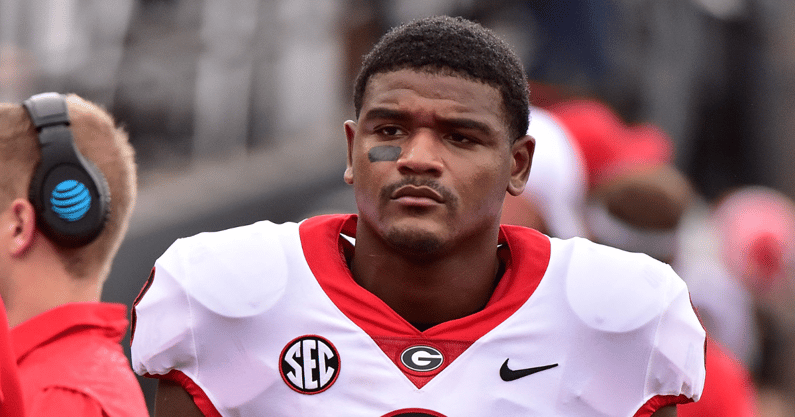 Deangelo Gibbs saw glimpses of it while he and Shane Beamer were together at Georgia. 
Gibbs, a four-star freshman hoping to make an impact with the Bulldogs, would hear from the then-special teams' coordinator about playing time.
"When we were at Georgia he would appreciate the things I could do. That's what I respect about him. He appreciates my work and the talent I brought to the table," Gibbs said. "I always saw he had head-coaching ability."
[Subscribe to Gamecock Central until Aug. 31 for only $29.99!]
It was there Gibbs saw some head-coaching traits in Beamer. But once Gibbs departed for Tennessee and Beamer to Oklahoma, those two likely didn't think their paths would cross again. 
That was until Beamer saw Gibbs' name pop up in the transfer portal this offseason. 
When Gibbs got the call, he was in Florida debating his next move. He had been out of football for two seasons after a stop at Tennessee. He had enrolled in another school while contemplating if it was just time to hang up the cleats and join the workforce. 
But his phone lit up and it was someone on South Carolina's staff inviting him up to campus for a visit. Gibbs didn't hesitate, coming up and officially joining the Gamecocks program. 
[Become an NIL supporter of your South Carolina Gamecocks!]
The only catch, for Gibbs that is, is South Carolina didn't have a scholarship to spend on him. If he wanted another crack in the SEC, he would have to do it as a walk-on. 
But for Gibbs, he just wanted the opportunity to make an impact. 
"Just bring everything I can to the table," Gibbs said. "To be a role model to the younger guys coming up needing a leader. That's one thing I can say I didn't have at other universities. Someone I could look up to and see the right way to do it. I want to lead by example. That's the best way to lead, by example, instead of just running my mouth. I want to lead by example on the field and off the field so we can keep this great tradition rolling." 
It's been a long road for Gibbs, who found his way to hopefully his last college stop. Gibbs was a four-star prospect and top-50 recruit in the 2017 class. 
[Subscribe for free to Gamecock Central's YouTube page!]
He started his career at Georgia before going to Tennessee but when COVID hit he opted out, leaving him looking for his next move. 
That ultimately led him to the Gamecocks, an opportunity he's not taking lightly. 
"Every day I wake up it's like, 'I got to go get it.' There are no days off, literally. It comes to the point where you have to make up your mind to say, 'This is what I'm going to do not what I want to do,"' Gibbs said. "Just come up here and help myself but help the organization and help the guys around me and make an impact while being the best I can be. I would be doing my team a disservice if I didn't bring what I could bring to the table and not work hard every single day."
He comes back to football grateful for the opportunity and someone who wants to be a positive influence in the South Carolina program. 
[Get South Carolina football news and analysis via email]
"Oh man. It's been a journey. Man, it's something about maturing and understanding I'm not perfect and wasn't perfect coming out of high school," he said. "I was young and I was caught up in the limelight and the wrong things. But this opportunity has formed and shaped me to be the better man I can be. I sat down with coach Beamer and he told me they want me to be a great football player but a better man in general."