Garnet Trust Foundation, Original Design, Gamecock athletes partner for Christmas shopping spree for kids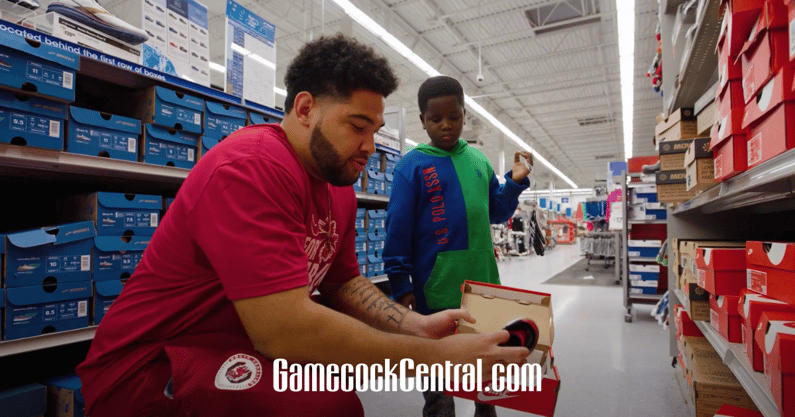 The Garnet Trust Foundation partnered up with Original Design and University of South Carolina Gamecocks student-athletes for a special charitable event recently.
Athletes from the women's soccer and football teams took children from Cayce Elementary School on a Christmas shopping spree at Academy Sports + Outdoors.
Among the South Carolina football athletes to take part in the event: Spencer Rattler, Boogie Huntley, Eric Douglas, Vershon Lee, MJ Webb, Jovaughn Gwyn, Mitch Jeter, and Tonka Hemingway.
Subscribe (for free) to the Gamecock Central YouTube page!
Original Design, a non-profit founded by former Gamecock football player Jay Urich, "exists to provide resources, opportunities, and supportive relationships necessary for children to live healthy and empowered lives," according to the organization's website.
Garnet Trust Foundation is a non-profit organization and has been granted tax-exempt status under Internal Revenue Code Section 501(c)(3).
"Utilizing their NIL, USC student-athletes are paid to promote local charitable organizations and causes, educate the general public regarding those charitable organizations and causes, and positively impact communities.
Donors know they're supporting USC student-athletes, helping local charitable organizations, and positively impacting communities," the organization's website reads.
See the video below to learn more about the event.
Garnet Trust Foundation launched in October 2022.
"While NIL opportunities have changed the game in many ways for collegiate athletics, we are excited to flip the script by working with student-athletes to give back to the incredible organizations and causes that serve our local communities," said Barry Bodiford, chairman of the board of directors for Garnet Trust Foundation. "It's our honor to come alongside impressive charities and nonprofits that deserve and need more resources, and to work with student-athletes who share our heart for giving back to South Carolina."
Receive breaking news and in-depth analysis via email
The Garnet Trust Foundation board of directors include:
Barry Bodiford, Founder and CEO of 360clean
Markeshia Grant, Founder and Personal Development Coach at Savvy Skills, LLC and former
University of South Carolina Women's Basketball player
Candace Knox, Retired from Planning and System Development at Palmetto Health (now Prisma Health)
Marcus Lattimore, Health Educator with the Multnomah County Health Department and former University of South Carolina Football player
Ken Long, Retired President of Long's Drugs
Tim Packer, CPA, Tax Supervisor at Dean Dorton
Brent Skinner, Owner of BP Skinner Clothiers
"After realizing that NIL is here to stay, I am extremely excited to be involved with so many quality, passionate and likeminded Gamecock people to lead this organization to raise and spend money to support our student athletes," said board member Ken Long. "This is an organization that every fan can support at any level they are comfortable with and know that the money will be used to support all the student-athletes who make sacrifices and work so hard to represent our university. This money will make all sports programs better and is another step forward to being more competitive in our conference and on a national level. My hope is that all Gamecock fans will recognize the necessity of a fully funded NIL program to compete at this high level in all sports."
Special: Get a year of Gamecock Central for $10!
"The coaches and athletic department at the University of South Carolina have created a culture that focuses on giving back and putting others first," added Jeremy Smith, who leads the operations of Garnet Trust Foundation. "We're thankful that our student-athletes are paving the way for new avenues of NIL that promote philanthropy and service."