Gamecocks roster breakdown: OL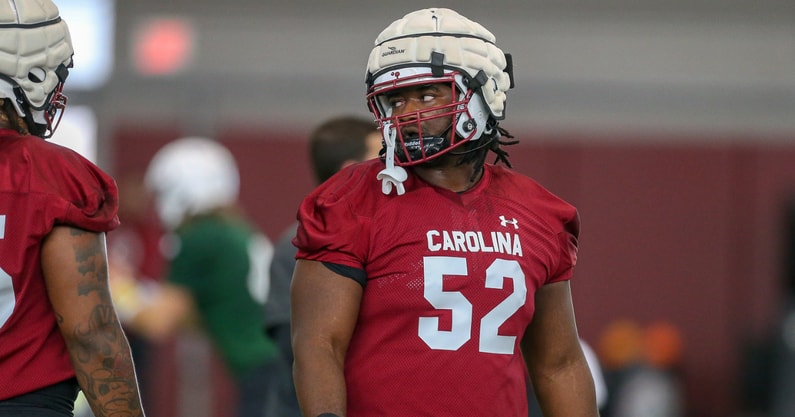 In this feature, former South Carolina Gamecocks football undergraduate recruiting assistant Lee Eberly takes a deeper look at the offensive line.
2022 Roster
·       Eric Douglas (Sixth Year, 853 snaps)
·       Dylan Wonnum (Fifth Year, 653 snaps)
·       Jovaughn Gwyn (Redshirt Senior, 855 snaps)
·       Jaylen Nichols (Senior, 655 snaps)
·       Jakai Moore (Redshirt Junior, 563 snaps)
·       Vershon Lee (Junior, 491 snaps)
·       Trai Jones  (Redshirt Sophomore, 286 snaps)
·       Tyshawn Wannamaker (Redshirt Sophomore, 220 snaps)
·       Jordan Davis (Redshirt Freshman, 0 snaps)
·       JonDarius Morgan (Redshirt Freshman, 8 snaps)
·       Colin Henrich (Walk-on Redshirt Freshman, 0 snaps)
·       Grayson Mains (Freshman, 0 snaps)
·       Jackson Hall (Walk-on Freshman, 0 snaps)
·       Mac Walters (Walk-on Freshman, 0 snaps)
·       Chase Sweigart (Walk-on Freshman, 0 snaps)
·       Ryan Brubaker (Freshman, 0 snaps)
·       Cason Henry (Freshman, 35 snaps)
Departures
·       Dylan Wonnum – Out of eligibility/ NFL Draft
·       Jovaughn Gwyn – NFL Draft
·       Eric Douglas – NFL Draft
·       Jordan Davis – Transfer Portal
·       Hank Manos – Graduate
·       Wyatt Campbell – Graduate
Incoming Freshman
·       Markee Anderson – On3 Consensus 4 Star
·       Trovon Baugh – On3 Consensus 4 Star
·       Oluwatosin Babalade – On3 Consensus 4 Star
·       Jatavius Shivers – On3 Consensus 3 Star
·       Nick Garguilo – Transfer from Yale·      
· Sidney Fugar – Transfer from Western Illinois
Become a NIL supporter of your South Carolina Gamecocks!
OL Room Outlook for 2023 Season
The Gamecocks started the 2022 season with 19 players on the roster at this position. Now the question is what that room will look like for the 2023 season after departures and new arrivals.
South Carolina's offensive lineman is losing 3 of its starters from 2022 to the NFL: Dylan Wonnum, Jovaughn Gwyn, and Eric Douglas. Each of these players were veterans with a lot of playing experience which was very valuable to the unit as a whole. Although USC has talented players on the roster behind them as well as incoming transfers and recruits, experience on the offensive line is invaluable and cannot be replaced. Reforming the offensive line will be a difficult task for 2023.
South Carolina is also losing Jordan Davis to the transfer portal. Davis did not play a snap in 2022 and would have had a difficult time finding playing time if he stayed for the 2023 season. 
South Carolina is returning two starting OL from 2022, Jaylen Nichols and Jakai Moore. Nichols has announced his return to the team for 2022 and this was great news for the unit. Nichols will most likely stay at left tackle as he can be trusted to block Spencer Rattler's blind side. Jakai Moore mostly played left guard in 2022 and will most likely spend most of his snaps there in 2023. Moore is an athletic guard that has a lot of position versatility. The position in which he starts will just depend on how South Carolina can get its best five on the field at the same time.
Three players are returning who played a considerable amount from the bench in 2022 in Trai Jones, Vershon Lee, and Tyshawn Wannamaker. Jones played mostly guard in 2022. He is an athletic player that has played fullback at times and even caught a touchdown pass during the 2021 season.
Vershon Lee also played mostly guard in 2022. he is very likely to be the starting right guard in 2023. Lee has played well when he has been on the field and is ready to take the next step as a starter. Tyshawn Wannamaker is one of only two returning tackles with playing experience. He started seven games in 2021 before Wonnum returned from injury in 2023. Wonnum won the job in 2023 but it was a very tight race and the whole staff feels very confident when Wannamaker is in the game. 
Another returning tackle with a bright future is freshman Cason Henry. Henry is a massive lineman at 6'6" and 300 lbs. He has had the fastest progression out of all of the freshmen on the team. Henry will benefit from most likely being a backup for one more year, but he is a name to listen out for moving forward.
Subscribe (for free) to the Gamecock Central YouTube page!
South Carolina has added 3 On3 consensus 4 stars to its 2023 recruiting class, Markee Anderson, Trovon Baugh, and Oluwatosin (Tree) Babalade. All three of these players are highly touted recruits that were great gets for the Gamecocks. Markee Anderson was the 2nd highest-rated player out of South Carolina in the 2023 recruiting rankings. Anderson played in the Shrine Bowl of the Carolinas as well as the Under Armour All-American game.
Anderson will have a chance to contribute early in his career as he is a dynamic player that has all of the tools to play at the next level. Trovon Baugh was another great signee for the Gamecocks. Baugh will most likely play guard and will instantly provide much-needed depth at that position in 2023. Baugh is a powerful player that moves extremely well for his size.
Oluwatosin Babalade was a highly recruited player that almost slipped out of South Carolina's hands toward the end of his recruitment. He is another extremely athletic tackle to add to the OL room. Babalade is a raw player that will benefit from a year sitting behind the two veteran tackles.
South Carolina has landed two players from the transfer portal, Nick Gargiulo and Sidney Fugar.
Nick Gargiulo is transferring from Yale, where he had 24 career starts. Gargiulo was the team captain for Yale in 2022 and his leadership will be useful next year as South Carolina's OL unit will look very different than it did in 2022. Gargiulo spent 10 of his starts at center for Yale. Gargiulo is much bigger than your prototypical center but we will see if he earns some reps at that position in 2023. 
Sidney Fugar is transferring from Western Illinois after spending two seasons there. Fugar started in 9 games for Western Illinois in 2022. Fugar is another impressive tackle joining the OL room. Although Fugar is a transfer, he will have to adjust to the competition as he is coming from an FCS program. 
Predicting the status of the OL for 2023 is a very difficult task as most of the players can play multiple decisions. There is a lot of talent in the OL room and many impressive players will be competing for the same starting spots. The overall outlook of the first and second units will be determined by how you can get your best players on the field at the same time. This might involve a starter playing a position that they do not prefer but they would do it for the good of the unit. With so many talented players in the OL room, I believe South Carolina newly promoted OL coach, Lonnie Teasley, will find the right combination and the unit will have a productive year.