Gamecocks share favorite Thanksgiving foods, what they're thankful for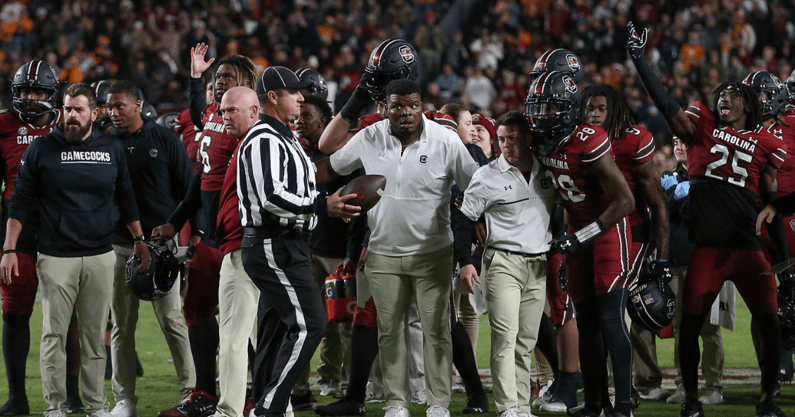 The Gamecocks are preparing to face No. 8 Clemson this weekend. But this week will be a little different than any other.
Not only is it rivalry week around college football, but it's also Thanksgiving.
Thanksgiving always falls on the fourth Thursday of November, which comes in the middle of game preparation. Not much will change for the Gamecocks, though.
Subscribe to Gamecock Central until the 2023 football season for only $10!
"It's a normal week for us," Shane Beamer said Tuesday. "We practice in the mornings anyway, so we really don't have to get much out of our routine from a Thanksgiving standpoint. We practiced today, we'll practice tomorrow, we'll practice Thursday morning. Usually, on Thursdays, we're done at 11:30 a.m."
After Thursday's practice, Beamer said he won't see the players until Friday morning to start their game weekend routine. This has been the case all season.
"If they live close by, they'll be able to get away and go eat with their families," Beamer said. "If not, some of them are coming over to coaches' homes and things like that."
Get your 'Cocky Top' t-shirt from BreakingT!
Before celebrating Thanksgiving, players shared their favorite foods as well as what they are thankful for.
Spencer Rattler's family will be coming into town from Arizona to have their feast together. The Gamecock quarterback said he's thankful for the people closest to him.
"Just my family, you know, the situation I'm in right now," Rattler said. "My parents, my sister, my loved ones. And obviously, my team and everybody that's in my circle. Just very blessed."
Less than two days prior to Thanksgiving, Rattler said he still needed to order the food and find a good place to get pies from.
"I'll get a few pies, but you know, turkey, ham, stuffing, stuff like that. Nothing crazy," he said. "But I'm definitely going to eat good."
Win a framed print of 'The Taunt' (D.J. Swearinger)
When Darius Rush was asked if he had any special plans or foods to eat, he couldn't hold back the smile on his face.
"I'm looking forward to some apple pie with ice cream — that's my biggest thing I'm looking forward to," Rush said. "Also, some turkey with some rice and gravy, macaroni (and cheese). I think that's going to be my first plate. I might go back for seconds too."
Additionally, it has been a big year for Rush. He's having a great season for the Gamecocks, racking up career-highs in tackles (35) and forced turnovers (3). He said he's thankful for the opportunities that have come his way.
"I can see my growth since last year, honestly," Rush said. "And my family, always grateful for those guys being supportive of me. Anytime I need them, I can call them. They've helped me through a lot, whether it's just calling to say hello or just to call my mom and say, 'I don't really know how to do something. Can you help me out?'"
So I'm really thankful for family and opportunities. It's just been a blessing this 2022 year for me."
With Thanksgiving on Thursday, most meals are scheduled for an afternoon or nighttime kickoff. On the field, the Gamecocks will face Clemson at Memorial Stadium at 12 p.m. Saturday. The game will be televised on ABC.