Garnet Trust, MarShawn Lloyd, popular influencer partner for unique NIL opportunity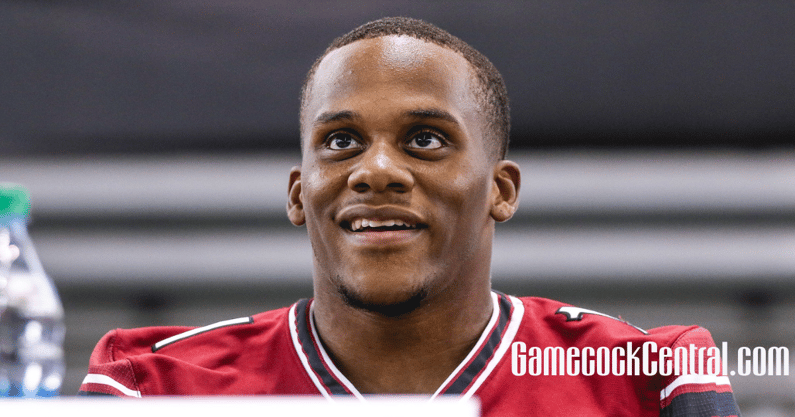 Gamecock football player MarShawn Lloyd is partnering with Garnet Trust and popular Gamecock athletics social media influencer Jeff O'Hara of Cocks By 90 for a creative NIL opportunity.
An idea for the "CB90 House", located off Rosewood Drive in Columbia, was conceived by O'Hara and is now available for rental on Airbnb.
"I wanted to create a unique game day opportunity for the fans to connect with their players and experience like they never had before," O'Hara told GamecockCentral.com. "The ultimate goal inside is to bring an opportunity to get to know the players on a different level that you don't see outside the football field."
As part of O'Hara's name, image, and likeness agreement with Lloyd – facilitated by Garnet Trust – Lloyd will sign Gamecock football miniature helmets and record personalized video messages that will be waiting on renters upon their arrival. He will also promote the CB90 House on social media on a regular basis.
"Why pay extra for Facebook posts when you can use when one of our players to spread the word to the audience we are trying to target?" O'Hara explained.
Lloyd will be compensated for his name, image, and likeness services, and a portion of profits will also go back to Garnet Trust. O'Hara's model has Lloyd as a "player host" for the home.
The CB90 House's main halls serve as a museum, with autographed memorabilia from former players and photographs of major milestone moments in Gamecock sports – a signed photo from Parker White, a George Rogers helmet, a Connor Shaw picture remembering his perfect home record, a Jadeveon Clowney photo showing "The Hit", signed D.J. Swearinger artwork – all on display.
Lloyd will also figure in prominently soon with a section dedicated to him, with the experience including apparel and even his favorite snacks and drinks.
Also adorning the walls inside the CB90 House: a signed Dawn Staley basketball celebrating the 2022 national championship, plus other memorabilia showing signature wins from men's basketball and baseball.
O'Hara said he also has plans to make deals with other current South Carolina student-athletes to be featured within the rental home.
"Knowing Columbia has a lot to offer, where the house is located, it lets families not only stay in that district, but they can get the feel of Columbia," he said. "It's built out to cater to the fans, create a unique game-day atmosphere, give back to our players and they're less than two miles away from Williams-Brice Stadium."
He also wants to see the NIL landscape continue to evolve in Columbia for Gamecock athletes, businesses, and fans.
Said O'Hara: "Hopefully, this is just one of many ideas, just the beginning of opportunities we can create with our student-athletes that nobody else is doing and capitalize on that."