Garnet Trust signs James Hicks to NIL deal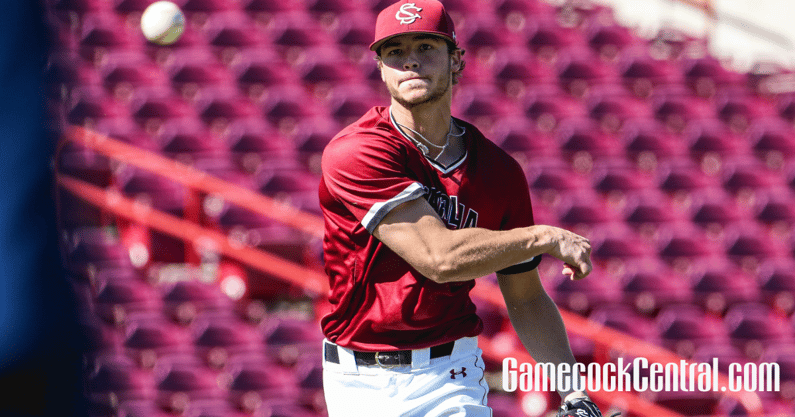 Garnet Trust announced on Thursday that the organization has signed Gamecock baseball pitcher James Hicks to a multi-month NIL (name, image, and likeness) agreement.
"It's truly an honor to be working with Garnet Trust," Hicks said in a news release. "I've seen them work with many great athletes at South Carolina, including many of my teammates. I'm very proud and excited for the future with them."
The Conway, Arkansas native appeared in two games last season for South Carolina, striking out a total of seven batters before undergoing season-ending Tommy John surgery. In the 2022 MLB Draft, Hicks was selected in the 15th round by the Baltimore Orioles but ultimately opted to return to school.
"James is exactly the type of student-athlete who we are proud to partner with," said Garnet Trust's Jeremy Smith. His hard work and personal commitment to come back after a devasting injury are reflective of the values that we are excited to highlight. As many fans know, James was drafted by the Orioles in the 2022 draft but elected to stay at the University of South Carolina because, in his words, he wants to finish what he starts. We can't wait to watch him and all of the Yardcocks this coming season!"
Prior to his time in Columbia, Hicks played two seasons at Crowder College in Missouri, becoming a first-team All-Region and All-District selection after the 2021 season. Hicks went 11-3 with a 4.28 ERA, 89 strikeouts, eight complete games and a 1.22 WHIP in 90.1 innings pitched during that season.
As part of his agreement, Hicks will appear at in-person events, create unique and exclusive content, have a listing on Garnet Trust Connect, and endorse the company on social media.
Here is more about Garnet Trust, according to the organization's website:
Garnet Trust was launched in November 2021 with one mission in mind: to connect South Carolina fans with their favorite athletes like never before. Through Garnet Trust's usage of legal and compliant name, image, and likeness deals, fans gain access to unique experiences while athletes in Columbia are able to capitalize on the NIL era in ways that actually build their brands. Deals have included content offerings, social media promotions, in-person and virtual events, and charitable causes.
Garnet Trust also bridges the gap between brands and Carolina athletes, using industry media knowledge to unlock highly-engaged audiences for the businesses while allowing athletes to make the most of NIL opportunities.