GC LIVE: Clark Brooks AKA SECStatCat joins to talk Gamecocks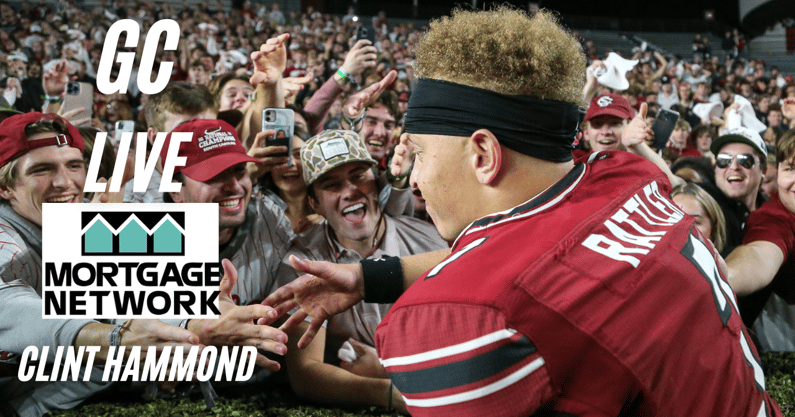 GC Live's Wes Mitchell and Chris Clark are joined by Clark Brooks AKA SEC Stat Cat for one last look at the Tennessee game and to look ahead to the Gamecocks matchup with Clemson.
GC Live is presented by Clint Hammond of Mortgage Network.
Clint is the branch manager for the Columbia Mortgage Network. Contract Clint for all of your mortgage needs: [email protected] Phone: 803-771-6933 Mobile: 803-422-6797 Fax: 866-741-1723
GC Live is also supported by The Tax Team at Liberty Tax locations in Irmo, Columbia and Lexington:
• 1123 S. Lake Drive in Lexington
• 7467 St Andrews Road in Irmo
• 551 St. Andrews Road, Columbia 29210
Give them a call at 803-462-5576
Links to Gamecock Central Live will be found on GamecockCentral.com's web platform and discussion forums and will stream live on YouTube, Facebook, and Twitter, in addition to being hosted on the GamecockCentral.com podcast network.
Subscribing (for free) to the GamecockCentral YouTube channel and clicking the "bell" icon next to the subscribe button will turn on your notifications, which means you will be notified each time Gamecock Central Live drops a new show.
Watch on YouTube | Apple Podcasts | Spotify | Megaphone | TuneIn Radio | PlayerFM | Stitcher | RSS feed
South Carolina coordinators Marcus Satterfield and Clayton White each met with the media Wednesday afternoon.
The two recapped the Gamecocks' thrilling 63-38 win over Tennessee and looked ahead to the big rivalry matchup against Clemson this Saturday. Here's a recap of what each said.
Marcus Satterfield
–Said honestly that performance felt great. Said it felt even better for the guys. To have a game like that and play complementary football and watch those guys play as free as they did was really neat.
•Subscribe to Gamecock Central until the 2023 football season for only $10!
–They emphasized execution and playing the play and not paying attention to the scoreboard. Said guys weren't thinking about it. Just kept saying, "What's next?" Puts it all on the players and the way they executed Saturday.
–Doesn't know if it ever hit him they're clicking. Said he was always worried because Tennessee was getting the ball back and they can score quick. Said he didn't realize how much they were scoring until he got back into the locker room.
–Spencer Rattler grinds and really goes week to week fixing things that needed to get fixed. He was "in the zone" and played his "*** off."