GC LIVE: Top OT Kam Pringle commits + WR Eddie Lewis joins the team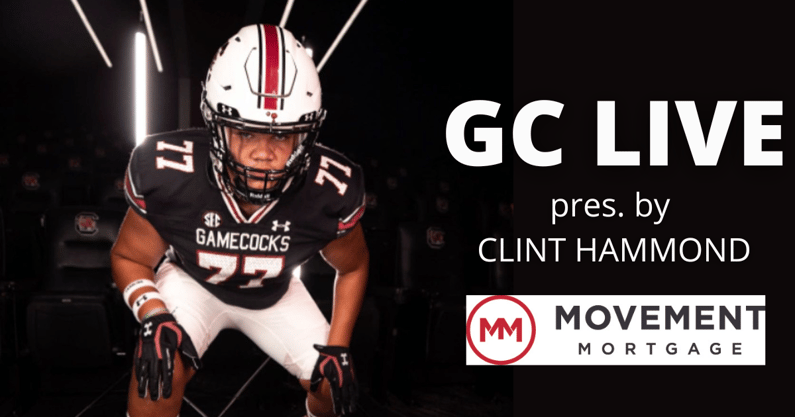 Gamecock Central LIVE's Wes Mitchell and Chris Clark dive into the commitment of No. 1 OT Kam Pringle to the South Carolina Gamecocks and the addition of Memphis wide receiver transfer Eddie Lewis.
GC Live is presented by Clint Hammond of Movement Mortgage.
Clint is the branch manager for Movement Mortgage. Contract Clint for all of your mortgage needs: [email protected] Phone: 803-771-6933 Mobile: 803-422-6797 Fax: 866-741-1723
GC Live is also supported by The Tax Team at Liberty Tax locations in Irmo, Columbia and Lexington:
• 1123 S. Lake Drive in Lexington
• 7467 St Andrews Road in Irmo
• 551 St. Andrews Road, Columbia 29210
Give them a call at 803-462-5576
Links to Gamecock Central Live will be found on GamecockCentral.com's web platform and discussion forums and will stream live on YouTube, Facebook, and Twitter, in addition to being hosted on the GamecockCentral.com podcast network.
Subscribing (for free) to the GamecockCentral YouTube channel and clicking the "bell" icon next to the subscribe button will turn on your notifications, which means you will be notified each time Gamecock Central Live drops a new show.
• Subscribe (for free) to the Gamecock Central YouTube page!
Transfer WR officially part of Gamecocks team
By Chris Clark
A productive wide receiver and special teams returner transferring from the American Athletic Conference is officially on the South Carolina Gamecocks football team, GamecockCentral.com has learned.
Eddie Lewis, who played his last two seasons at Memphis, is now a part of Shane Beamer's squad, according to a University of South Carolina athletics spokesperson.
Subscribe to Gamecock Central until Aug. 31 for only $29.99
During the 2022 season, the Harlem, New York product was a Second-Team All-AAC selection by both Phil Steele and PFF as a return man. He averaged 9.4 yards per punt return this past season, scoring one touchdown and turning in a 60-yard long.
Lewis also put up a strong season as a pass-catcher, tallying 42 receptions for 615 yards and 7 touchdowns through the air.
The 6-foot, 190-pounder arrived at Memphis via Butler Community College. Prior to the junior college stop, the newest Gamecocks wide receiver began his career at Rutgers.
As a high school prospect out of the 2017 class, Lewis was ranked by the On3 Consensus – a complete and equally weighted industry standard that averages rankings from all four major recruiting services – as a three-star prospect.