How Dowell Loggains is approaching position of 'unknown' at running back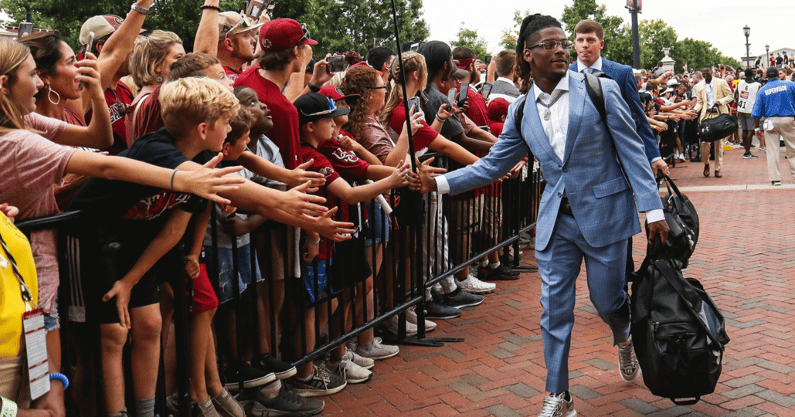 One of the most vital position groups that the South Carolina offense needs to solidify this spring is running back. The Gamecocks saw their top two leading rushers depart by way of the transfer portal following the 2022 season.
[Spring Ball Special! $10 for 4 months of Gamecock Central!]
Head coach Shane Beamer and offensive coordinator Dowell Loggains expressed their expectations that the players in the newly-assembled running back room fill roles to provide impact in the backfield going forward.
"Obviously we got a group of guys in there that are not as experienced as what was here last year," Loggains said. "Which is part of the college football world that we live in now. And we need to develop the guys we have on our roster."
Those players likely to compete for playing time in the backfield are junior Juju McDowell and Newberry transfer redshirt senior Mario Anderson. Columbia graduate transfer Dante Miller, who is awaiting to see if he'll be eligible this season, could also.
The Gamecocks signed four-star prospect DJ Braswell in the 2023 class. But he won't arrive until the summer.
The mixture of experience from outside the program and underclassmen returning means the coaching staff will have to use spring practice to answer rotation questions. 
"I would say it's a position of unknown right now. Sometimes there are people that you don't expect to play the level that they're capable of," Loggains said. "Our job right now is to figure out what they do well. And put them in that situation as many times as we can. And someone needs to step above because there is not a known starter or not a known returning starter."
[Get South Carolina football news and analysis via email]
Beamer is confident that his program has the players to be competitive in the run game.
"We feel like with all the running backs that we have right now that they can do everything that we want to do from a schematic standpoint," Beamer said.
One avenue the Gamecocks will explore to reinforce the running back depth is giving Dakereon Joyner reps there throughout spring ball.
"I know that Dakereon's a guy that good things happen when the ball is in his hands. Whether it's running it, catching it or throwing it. There are a lot of different things that we can do with him," Beamer explained.
This move may be a product of the Gamecocks' running back injuries in 2022. That led to a tight end deputizing in the role late in the season. The South Carolina staff's decision will only prove to strengthen the position group, according to Beamer.
Beamer noted that Joyner is still a wide receiver. But experience at multiple positions increases the number of opportunities he will have on the field.
"We're very limited, as you guys know, at running back right now, Beamer said. so it gives us another body in that room and some experience in that room as well because that's a young group."