How South Carolina players are performing in summer leagues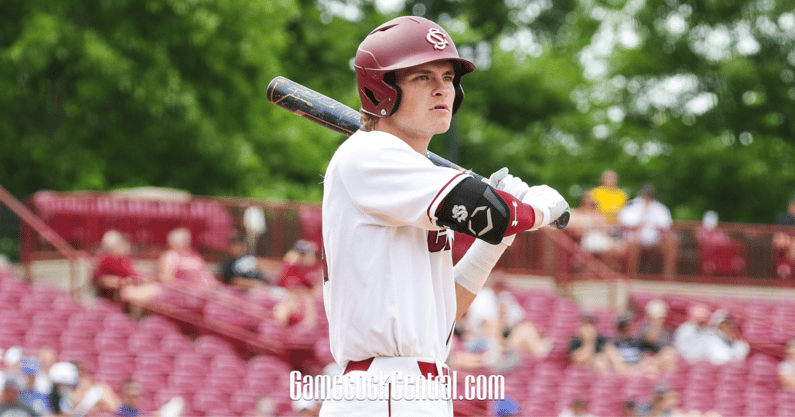 South Carolina's 2022 baseball season is over, which means the Gamecocks have a handful of players in the summer leagues.
It's not a lengthy group of players getting at-bats or innings across the country, but there are a few.
Most are having solid beginnings to their summer seasons, and here's a look at some of the returners and newcomers in action.
Newly committed infielder Jacob Compton is off to a fantastic start for the Springfield Lucky Horseshoes in the Prospect League.
In 70 plate appearances, (62 at-bats), the left-hander is slashing .355/.429/.726 with seven home runs and 20 RBI.  He's up to six walks and six strikeouts apiece. He'll come to South Carolina this offseason from Memphis.
Carson Hornung is also off to a great summer, slashing .324/.473/.479 with a homer and 10 runs driven in for the LaCrosse Loggers. The Gamecocks' left fielder has scored 18 runs and walked 18 times to 15 strikeouts in 91 plate appearances (71 at-bats).
An injury has limited South Carolina utility player Talmadge LeCroy to just eight games and 28 plate appearances for the Lexington County Blowfish this summer. He's hitting .136/.321/.136 with a walk and six strikeouts and five runs scored.
Cole Messina's played in 18 games with 72 plate appearances (57 at-bats) for the Fond Du Lac Dock Spiders.
He's slashing .175/.347/.281 but has driven in 11 runs with a homer. The South Carolina native has walked 13 times while striking out 19 times.
Also with the Dock Spiders, Evan Stone is slashing .304/.391/.354 in 92 plate appearances. He's scored 17 runs with 13 RBI and 15 strikeouts. Stone has stolen seven bases.
The only Gamecocks pitcher from last year's team who's throwing this summer, Brett Thomas has made one appearance this summer so far with the Blowfish.
In his four-inning start, Thomas gave up one run on four hits. He walked four and struck out two.
Transfer pitcher Ricky Williams is also playing this summer in the Cape Cod League. He's made one appearance for the Chatham Anglers. He gave up a walk and punching out one in an inning.
He'll come to South Carolina from Clemson this offseason. The Gamecocks don't have any other players in the summer leagues.
Most of the pitchers are giving their arms a break after the 2022 season and the remaining offensive prospects are working out before the start of fall scrimmages.