Kai Kroeger exclusive interview | Gamecock Football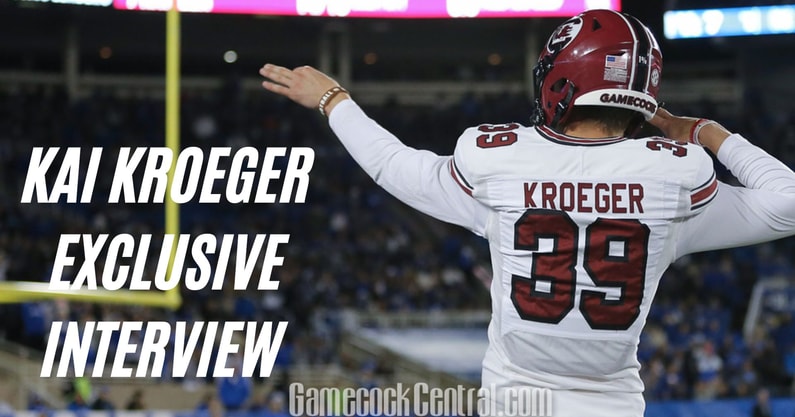 In this exclusive interview presented by Garnet Trust and 360 Clean, Gamecock football punter Kai Kroeger joins Kendall Smith to talk about his season, South Carolina football, the Gator Bowl, and more.
Kroeger had a stand-out season in 2022, racking up numerous national punting awards and earning spots on multiple All-American lists. Kroeger ranks second nationally in punting average on the year and has been monumental in helping the Gamecocks fight their way to eight wins this season.
Want to learn more about the sponsors of this interview, Garnet Trust and 360 Clean? Visit GarnetTrust.com and https://360clean.com/locations/columbia-sc/ for more.
Kai Kroeger bio via GamecocksOnline.com
Third-year punter who is emerging as a leader of the specialists… averaging 43.1-yards per punt through his first two seasons, which ranks third on the school's all-time career list behind Joseph Charlton (45.5) and Sean Kelly (43.3)… listed as a pre-season fourth-team All-SEC selection, according to Athlon… was named to the 2020 SEC Coaches' All-Freshman team… good athlete who is also one of the best holders in the country… is 2-for-2 in pass attempts, including a touchdown.
2021 (Sophomore)
Averaged 42.9 yards on 59 punts… ranked 10th in the SEC in punting average… logged 14 punts of 50-plus yards with 23 fair catches, 23 inside the 20 and just two touchbacks… boomed a pair of punts that traveled 70-plus yards including a career-long 73-yarder at Texas A&M… also had a 70-yarder against Vanderbilt… is the only Carolina punter to have two 70-yard punts since 1984… named the SEC Special Teams Player of the Week and Ray Guy National Punter of the Week for his efforts against Vanderbilt when he averaged 56.8 yards on four punts…listed on "Ray's 8" list for his efforts against Kentucky when he placed four of five punts inside the 20… threw a 44-yard touchdown pass on a fake punt at Tennessee… named to the SEC Fall Academic Honor Roll.
2020 (Freshman)
True freshman who enrolled in August and won the starting punting duties in fall camp… also served as the holder on placements… named to the SEC Coaches' All-Freshman team after averaging 43.3-yards per punt… boomed 39 punts for 1,690 yards with a long of 53… totaled seven punts of 50-plus yards and placed eight inside the 20 with just two touchbacks… ranked eighth in the SEC in punting average… got off to a slow start, with his first 10 punts over two games averaging just 37.8 yards… averaged 45.2 yards the rest of the season… averaged a single-game best 48.5 yards on two punts in the rain at Vanderbilt… boomed five punts for 242 yards (48.4 avg.) including a season-best 53-yarder, with three balls spotted inside the 20 in the win over Auburn, earning him SEC Special Teams Player of the Week honors… averaged 44.5 yards on two punts against Texas A&M, then averaged 44.7 yards on a season-high seven punts against Missouri… averaged 46.0 yards on four punts, including a 52-yarder, against Georgia… completed his lone pass of the season, a 22-yarder to Dakereon Joyner on a fake punt for a first down at Kentucky… named to the SEC First-Year Academic Honor Roll.
HIGH SCHOOL
Graduated from Lake Forest (Ill.) High School in 2020… helped lead the Scouts to a 7-5 record and a spot in the 2019 state quarterfinals… named to the 2019 IHSFCA honorable mention 6A all-state team… averaged over 40 yards per punt as a junior… selected for all-conference honors and earned a spot on the News-Sun and Pioneer Press all-area teams in 2018… named the North Suburban Conference Special Teams Player of the Year in 2018… coached by Chuck Spagnoli… considered the 41st-best prospect in Illinois and the third-best punter in the country according to the 247Sports Composite rankings… is the top-ranked player at his position in the country according to Kohl's Kicking.
PERSONAL
Kai Martin Kroeger was born June 11, 2002… is a history major.