Kirk Hollingsworth's streak celebrates 30-year anniversary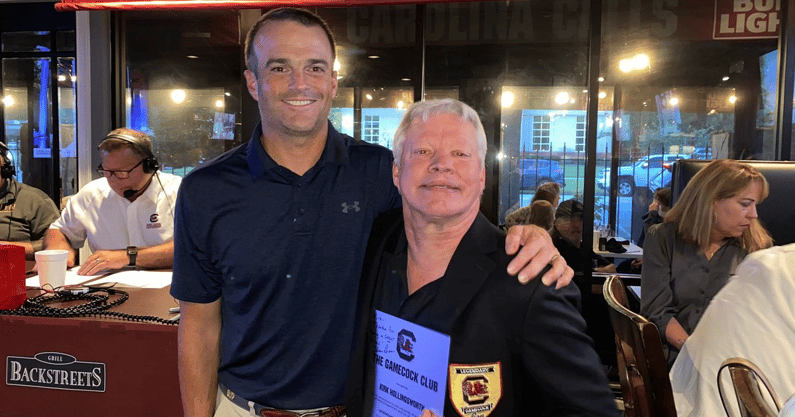 November 21, 1992. Days before Thanksgiving, Gamecock superfan Kirk Hollingsworth hit the road to see South Carolina play at Clemson.
Behind a two-touchdown in nearly 300-yard passing performance from Steve Taneyhill, before the QB signed his named at midfield, USC snapped Clemson's four-game winning streak in the rivalry. Little did Hollingsworth know at the time that a new streak was about to be born. One that involved him.
"I was just young and dumb and just really wanted to be at the games," said Hollingsworth. "If you told me on that day back in '92 that we'd be here talking about a streak, I would've called you crazy."
Flash-forward to this week and Hollingsworth is set to attend his 368th consecutive South Carolina football game. A journey that has led him to travel over 150,000 miles all across the country for the past three decades.
"When the streak started, I wasn't thinking about the number," said Hollingsworth. "My parents started bringing me to games when I was younger and as I got older I just didn't want to miss a game. You could say they created a monster."
This past Monday, Kirk's streak celebrated its 30-year anniversary since it began. Whether it be a regular season or a bowl game, wherever the Gamecocks have played Kirk has always been there. But his streak of going to home game dates back even further.
"I haven't missed a home game since '82. I had to break my original streak because I had to go to my cousin's wedding the week before the Clemson game in '92. South Carolina was playing at Florida and I just couldn't make it or else the streak would be ten years longer."
That alone is impressive. But what makes Hollingsworth's streak even more amazing is that he's done so with a disability. Hollingsworth was born with cerebral palsy, a disorder that affects the movement and muscle tone or posture of an individual.
"Every case of cerebral palsy is different. I consider what I have to be a mild case. I don't let it slow me down," he says.
In the early years, he often found himself having to climb stairs since many stadiums weren't handicap accessible. Instead of letting that get in his way, Hollingsworth kept pushing through.
Receive breaking news and in-depth analysis via email
"I tell people all the time that if they start to feel sorry for themselves that there's always someone worse off than you are. It's something that I live my life by every day."
His commitment has led him to see some of USC's most memorable moments. From "The Fade," to the takedown of No.1 Alabama in 2010. To "The Hit" in Tampa, Fl and of course this past weekend's win against No. 5 Tennessee, Kirk has been to every game, every week, for the past 30 years.
Not even the 2020 COVID season could stop Hollingsworth. With the Gamecocks playing at Vanderbilt, the Commodores had restrictions that prevented him from purchasing a ticket. But thanks to the help of some friends, and a unique view at the Nashville Marriott at Vanderbilt University, Hollingsworth's streak stayed alive.
"Kirk had himself a nice suite. It counts," said then-South Carolina head coach Will Muschamp about Hollingsworth's streak the following Tuesday after the game. "It counts in my book."
Heading back to Clemson this weekend where his streak began all those 30 years ago, Hollingsworth admits it'll be a special weekend. But if the Gamecocks could get the win it would be a full-circle moment for him.
"It would be monumental. And to break that (seven-game losing) streak to them there where I saw them win when my own streak began would be very special."
While Hollingsworth has no plans of ending his streak any time soon he admits when that day does come it'll be tough.
"I'll probably cry my eyes out. I just like being with the fans in the stands when that ball is kicked off. It's been my life and I'm very grateful for all the people I've met and the memories I've created. Let's hope we can create another good memory this weekend."