Marcus Satterfield talks offensive performance, carrying it to Clemson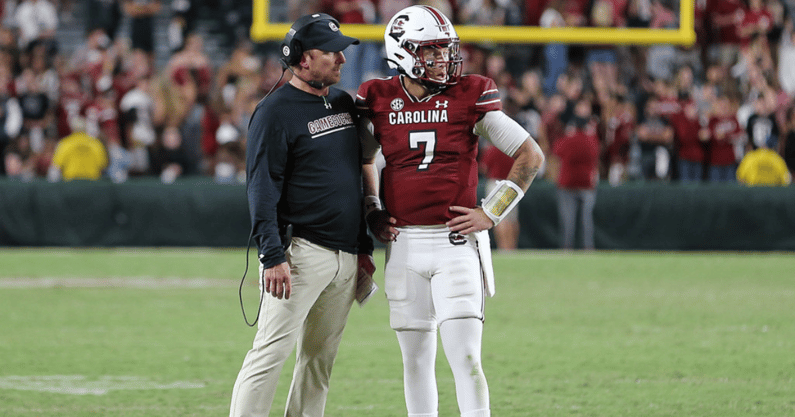 Juice Wells said it best Saturday after the Gamecocks' upset win over Tennessee. 
Marcus Satterfield, the lightning rod for South Carolina fans' consternation, came in before the game and delivered a simple message. Effectively, it translated to, "eff it, we ball."
The crux of the statement boils down to block out the noise, throw inhibition to the wind and just go play. 
•Subscribe to Gamecock Central until the 2023 football season for only $10!
"I really meant it. I didn't mean it to be funny. But what do you have to lose? What do I have to lose?" Marcus Satterfield said. "Everyone's doubting me, everyone's doubting us to have a chance to do anything. Just play free, go out there and let it go. Who cares? We screw it up we screw it up. Just go play. That's what we did." 
The Gamecocks responded, drubbing the Vols to the tune of 63 points and 606 yards of offense behind a transcendent performance by quarterback Spencer Rattler. 
It was the magnum opus for an offense that at times this year struggled to get off the ground.
"We tried to mainstream it as much as we could. The trendy word is to simplify," Satterfield said of what changed. "I don't know what that means. We got some plays together we thought our plays could execute. We repped them all week in practice and got in the game and that's what they did." 
•Get your 'Cocky Top' t-shirt from BreakingT!
The Gamecocks looked confident and controlled against a top-five team, scoring on nine of their 10 drives that didn't end the half and turning in one of the best offensive performances in program history. 
"I know it's simple but we played really well. It wasn't like we reinvented the offense and changed things. We certainly tweaked things. I would say schematically the calls we went into the game with–defensively and on offense–was probably the smallest it's been," Shane Beamer said. 
"It wasn't like it was that much smaller…It was really narrowing down what we were doing. The less you do the more you can rep it against in practice. That was critical. Then Spencer played really, really, really well and made some big-time throws. But it wasn't like a bunch of new plays." 
•Win a framed print of 'The Taunt' (D.J. Swearinger)
The biggest question now is if South Carolina can turn in consecutive performances moving forward. 
It might not be wise to expect 60 points and 600 yards agaisnt a Clemson defense that is metrically better than Tennessee's. 
But the Gamecocks are trying to be on the same level of execution in this year's rivalry game. 
"I think it's the same mindset. Coach Beamer said it at practice: it's not going to be the team that wants it the most or hates each other the most or has the fanciest plays," Satterfield said. "It's going to be the team out there that plays the best.it's just getting plays our guys can go out there and execute no matter what." 
Satterfield and this offense hasn't lived up, at least the first 10 weeks, to the expectations for this offense in 2022. It's sputtered at times and looked disjointed. 
But for at least one week–and potentially two–it looked even better than expected. 
"Why can't we just be perfect? Why can't we just come here and a coaching staff and win every game? I don't know," Satterfield said. "We just come in and work and practice. It takes time and no one wants to hear that."