Pair of running backs travel for South Carolina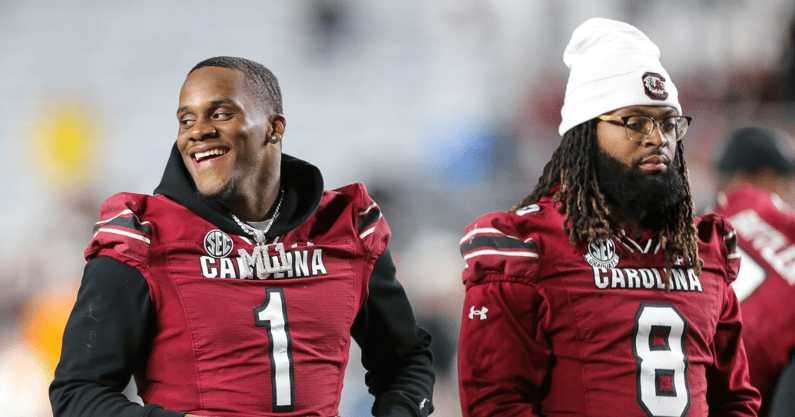 South Carolina will at least have its top two running backs with them Saturday at Clemson.
Both MarShawn Lloyd and Christian Beal-Smith made the trip to the Upstate for a noon kick against the Tigers.
Both have missed significant time with lower-body injuries. Lloyd's missed the last three games with a thigh bruise while Beal-Smith has been in and out of the lineup dealing with a foot injury.
Shane Beamer mentioned the possibility of both playing this week, and Marcus Satterfield echoed that in his Wednesday availability.
"We're in good shape," Beamer said Tuesday. "MarShawn and CBS were both out there at practice today, hopefully when we come in tomorrow morning, they will have responded well to what they did in practice today and feel good. That was part of the issue a couple of weeks ago. MarShawn practiced and (the injury) just didn't respond the way he wanted it to the next day. So we're optimistic that he'll feel great tomorrow morning. But when we came in on Sunday, he told me he was playing this week. He and CBS both did, so hopefully, they'll continue to trend in the right direction because I know they both want to play, and we're going to need them."
He said he'd hedge his bet at least one would play, but did not specify which one.
•Subscribe to Gamecock Central until the 2023 football season for only $10!
Both, if involved in the offense, would be big boosts to the Gamecocks' run game. Lloyd is the team's leading rusher with 556 yards and averaging 5.6 yards per carry. He's scored a team-high nine times.
Beal-Smith is third among regular contributors (minimum 10 carries) averaging 4.3 yards per carry, only behind Dakereon Joyner (10 rushes, 49 yards).
With both on the trip, Lovasea Carroll did not travel. Dante Miller, Juju McDowell, Rashad Amos all made the trip. Colten Gauthier did not make the trip. South Carolina traveled with Spencer Rattler, Luke Doty and Tanner Bailey at quarterback.
•Become a Garnet Trust member: Support and connect with USC student-athletes
South Carolina is coming off its biggest win of the Shane Beamer era, a 63-38 walloping of then-No. 5 Tennessee and now turn its attention to Clemson.
The Gamecocks (7-4, 4-4 SEC) scored a season-high in points and put up 606 yards against the Vols.
•Win a framed print of 'The Taunt' (D.J. Swearinger)
They haven't beat their arch-rival in seven matchups–the two teams didn't play in 2020–with the last win coming in 2013. The last win in Death Valley was in 2012.
South Carolina hasn't played at Clemson since 2018, a 56-35 Tiger win.
• Subscribe (for free) to the Gamecock Central YouTube page!
Kickoff Saturday is scheduled for noon ET on ABC.