Pete Lembo encouraged by South Carolina specialists this spring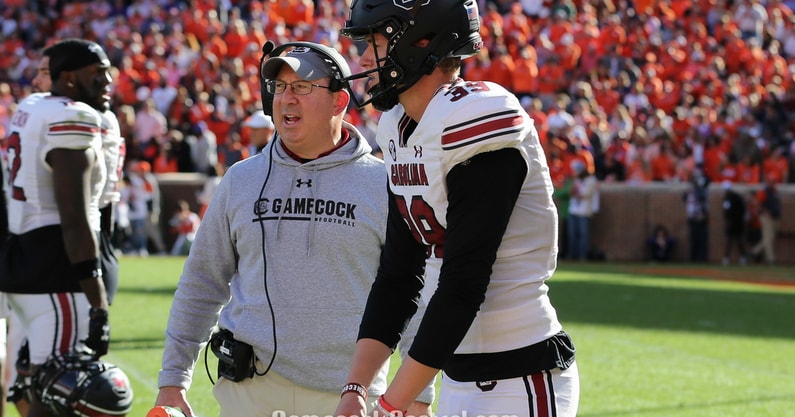 It's been said a million times already, but "Beamer Ball" was in full effect for the 2022 South Carolina football team.
The Gamecocks finished as the No. 1 team in the country in special teams efficiency, according to ESPN. While achieving that metric was a team effort, Kai Kroeger and Mitch Jeter played valuable individual roles last season.
[Spring Ball Special! $10 for 4 months of Gamecock Central!]
Last season, Kroeger averaged 46.12 yards per punt, good for ninth in the nation at the Division I FBS level. Of his 58 total punts, 29 of them landed inside the 20-yard line.
He also proved to be an important part of the passing game when South Carolina decided to run trick plays. Kroeger was a perfect 4-for-4 on passes and threw for two touchdowns, including one in the Gator Bowl against Notre Dame.
Kroeger's all-around prowess earned him lots of recognition. He was named a first-team All-American by ESPN.com and The Athletic and a unanimous All-SEC first-teamer.
Despite this, Kroeger was not named a finalist for the Ray Guy Award, given annually to the nation's best punter.
[Become an NIL supporter of your South Carolina Gamecocks!]
Pete Lembo said Kroeger was not particularly concerned about his Ray Guy Award snub during the offseason.
"Kai's not the kind of guy to 'woe is me' about something that he knows is not really that important relative to the team winning games," Lembo said. "I know he was very proud of some of the postseason honors that he earned, and hopefully there's still some nice carrots for him to go after."
Lembo added that Kroeger was cognizant that South Carolina's success on special teams is not an individual thing.
"He's also smart enough to know that he's only as good as the rest of the guys on that unit," Lembo said. "it's good to see him working really hard, taking a leadership-type approach with our whole team to further the goals of the whole team, as well as the special teams units."
Even though 2022 was Kroeger's best season of his career, he is hoping to improve on that this upcoming season. Lembo said Kroeger has been working on accuracy and increasing hang times during offseason practices.
"I know there were some really good punts that maybe were only in that 4.0-range hang time-wise," Lembo said. "We'd love to see those hang times get into the mid-4s and buy that coverage a little more time to get down the field."
Jeter similarly had a career season for South Carolina this past season. The senior kicker was a perfect 11-for-11 on field goal attempts and 44-for-46 on PAT attempts in 2022.
While Lembo acknowledged his satisfaction with Jeter's performance–he had the game-winning score against Clemson–he said a starting role will not be handed to him.
[Subscribe for free to Gamecock Central's YouTube page!]
"It's a balancing act because you always want to promote competition, especially this time of year," Lembo said. "Our kickers came out there yesterday and they all looked good in practice one. I will make sure that our second, third and fourth guys get team reps this spring."
Lembo said Jeter will become a better player as he increases in confidence and continues to work hard.
[Get South Carolina football news and analysis via email]
"You're not going to find a harder worker than Mitch Jeter," Lembo said. "If anything, we need to tell Mitch to take it easy and back off because he will push himself very hard."
Lembo added that the unit as a whole will be a fun group to be around this season.
"You really feel like we've got that critical mass of guys that really want to be here. They're likable, they're fun to work with every day, and that group is just growing and growing," Lembo said. "If I was a donor, I feel like these are the kinds of guys that I would want representing my university."