Pup Howard staying busy recruiting for South Carolina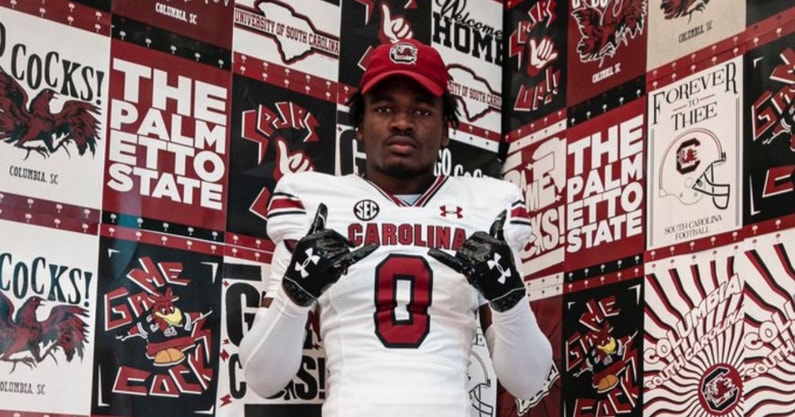 South Carolina commit Pup Howard is staying busy both on and off the field. While his high school team is currently riding a six-game winning streak, the 4-star linebacker has also continued to do his best to recruit future Gamecocks.
"The the good thing about me is that I'm an early enrollee so I don't have much work (to do) this year," Howard said with a smile. "The good thing about a cell phone is that it's always on. I'll usually hit (a prospect) up on Twitter and watch some of their film and get to know them a little bit. I'll ask for their number and we'll talk on the phone and build a relationship. I let them know to just come to a game because once we get together in person we're really gonna click and that they're gonna really like the atmosphere at South Carolina."
An example of this is the relationship Howard has built with 5-star ATHLETE Nyckoles Harbor. Harbor is currently rated as the No.1 ATH in the country and the No.12 overall prospect for the class of 2023.
"Over the summer me and Nick clicked automatically. We've been best friends ever since and we talk all the time. We're high school athletes so we relate in a lot of ways and once you get that connection it's easy."
Harbor took his official visit to Columbia on Sep. 17 when South Carolina fell to Georgia 48-7. While Howard can only speak for himself, his sense from the other prospects there was that they viewed that day as motivation more than anything to want to be the reason why fans stuck around until the end.
Garnet Trust: Support and connect with USC student-athletes
"Seeing that gives you a reason to want to turn things around. I don't see it as a negative (for recruiting). You just have to play better. If you want fans to stay you just have to play better and it just comes down to that. I know there were a bunch of commits there, Nick being with me, and Nick was having a ball."
What Howard made clear is that Harbor remains a player he, and several other Gamecock commits, have continued to recruit heavily.
"My biggest project is Nyck Harbor. Me and him are so close. He's a great person, a great player, and he has a great family. I couldn't ask for a better commit to this class than Nyck Harbor."