Shane Beamer evaluates offensive line performance with Jaylen Nichols out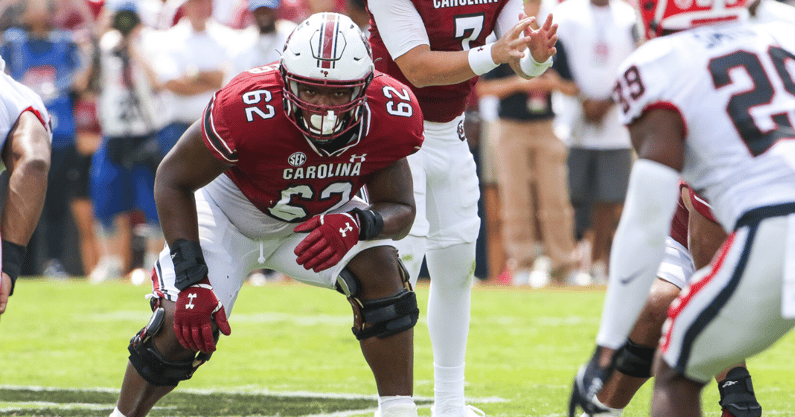 South Carolina had to play a quick game of musical chairs on the offensive line last week against Georgia.
With Jaylen Nichols out, the Gamecocks moved Dylan Wonnum to left tackle and inserted Tyshawn Wannamaker at right while Trai Jones saw his first real action of the season at guard.
While it might have been a very disjointed and anemic offensive performance overall, Shane Beamer thinks there is promise up front.
Special: Get a year of Gamecock Central for $10 or a month for $1!
"I thought those guys took a step forward and showed we can run the ball. Some of the runs we popped were the same run schemes over and over again just out of different formations," Beamer said. "We have to continue to be better. We haven't arrived by any stretch of the imagination. But I thought those guys took a good step against a really good defense."
Wonnum finished with a Pro Football Focus grade of 55.7 in 49 snaps while Wannamaker ended with a 60.7 grade and played 65 snaps.
Jones, who came in for Vershon Lee, played 25 snaps and had the highest grade of the three at 62.1.
South Carolina didn't allow a sack for the first time this season. But the Gamecocks only mustered 3.1 yards per rush while allowing pressure on 16 of 35 dropbacks.
Some of that, Beamer said, wasn't all on the offensive line.
"Did we get some pressure? Yes. Spencer will tell you this too: he has to step up in the pocket. Some of those times on Saturday Spencer was drifting backwards," Beamer said. "He knows this. I'm not telling you anything we haven't already talked about. We would love for him to be able to step up in that pocket too because we had good protection."
WIN! Framed picture of Williams-Brice Stadium signed by George Rogers
Rattler finished 3-for-13 for 24 yards and two interceptions under pressure while going 10-for-12 for 94 yards when kept clean.
While the Gamecocks' run game failed to get off the ground for the third time this year, there were a few lanes that opened up. Running backs were tackled before turning into chunk plays.
"I thought they played really, really well. Nobody's talking about that for sure. Now id we win the game or play well on offense? No. Do we have moral victories because we didn't have a ton of sacks? No," Beamer said. "But I think if you look at it, we lined up and were able to pop some runs in there that were a shoestring tackle away from popping a couple of them."
Nichols' status is still up in the air for Saturday's game against Charlotte (7:30 p.m., ESPNU). That means the Gamecocks could very well trot out the same starting line out there or opt to but Jones back in the game at guard.