The Verdict: Carolina is building this roster correctly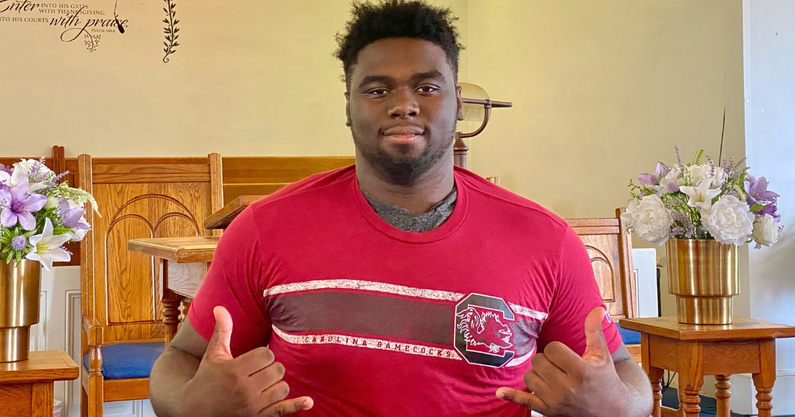 South Carolina football superfan and lawyer Chris Paschal writes a column for Gamecock Central called "The Verdict."
In the state of South Carolina, the verdict is published by the Clerk of Court. In other words, when a jury has reached a verdict, the Clerk of Court, not a member of the jury, announces the verdict to the courtroom.
But in every jury trial – whether criminal or civil – there is no mistaking that the jury, and only the jury, is the finder of all facts.
Much like a jury, I will try to base my findings and opinions on facts. But unlike a jury, I want to hear from the gallery, both what I got right and what I got wrong. So weigh in on The Insiders Forum!
[Join us Aug. 20 at Steel Hands Brewing for the 2022 Gamecock Central South Carolina football Kickoff Party]
The Verdict: Carolina is building this roster correctly. 
General Robert Neyland was a West Pointer. He played college football at West Point, and he served in the United States Army as an officer in the Corps of Engineers during World War I. He traveled throughout the world, and he met people from all over the country.
So when General Neyland became the head football coach at Tennessee, there was no apprehension in building his football roster with players from not just Eastern Tennessee, but the entire country. That would remain a critical cornerstone for the Volunteers for over 60 years. Tennessee may be in Knoxville, but the Volunteers would have their roster littered with players both from neighboring states and far-a-way states for decades to come.  
But in 1964 when Doug Dickey took over the helm at Tennessee, the Volunteers were over a decade removed from General Neyland and had gone a pedestrian combined 15-15 in their previous three seasons.
In order to right the ship, Dickey immediately did two things: recruit local prospects and recruit linemen. Dickey successfully signed two offensive linemen from the greater Eastern Tennessee area in Bob Johnson (from Cleveland) and John Boynton (from Pikeville).  Four seasons later, in 1967, both Johnson and Boynton were All-SEC performers, and the Volunteers were SEC Champions. 
Almost six decades later, South Carolina football coach Shane Beamer and his staff are trying to build this roster in a similar fashion – recruit local and recruit linemen. Yes, the game has changed dramatically from the 1960s to present. And yes, additions like Spencer Rattler and Austin Stogner (among others) are incredible pieces for this Carolina rebuild. But as I have written multiple times in this forum, the game of football is still about blocking and tackling. And at times last season, Carolina was not very good at blocking. 
This column is not re-examining the shortcomings the Gamecock offensive line had last season. And I am confident that with the returning experience within the position group that the 2022 offensive line will play much better. 
Instead, this piece is about the future of the position group. With the commitment of Spartanburg County's Markee Anderson, the Gamecocks have now collected commitments from four offensive linemen. An emphasis has clearly been made on re-building the offensive line. After signing three offensive linemen in 2022, Carolina is on pace to sign at least four, but potentially even five or six offensive linemen in 2023.  
And that is a good thing. Carolina has not recruited the offensive line like a championship program for the past few years.
In comparison to the elite of the SEC, Carolina fell short of the pace Alabama and Georgia set starting in 2019. In their previous four recruiting classes, Alabama has signed five, three, five, and four offensive linemen. Georgia has signed three, six, four, and five offensive linemen in their four previous recruiting classes. Carolina has signed five (three of which are no longer in the program), four, two, and three offensive linemen in its previous four recruiting classes.
Alabama over the past four years has averaged 4.25 offensive linemen per recruiting class. Georgia averaged 4.5 offensive linemen per class. Carolina averaged 3.5. 
To compete in the Southeastern Conference, you must be able to put your hands on another team and push them around. Shane Beamer and his staff understand this truth. And the timing of this push for more offensive line talent could not be coming at a better time.
In the class of 2023 and in the class of 2024, the top two prospects in the state of South Carolina in each respective class are offensive linemen. And Carolina has a commitment from one of them and is very much in the mix with two others (Kam Pringle and Josiah Thompson). Signing three of the four best in-state offensive line prospects available between the 2023 and 2024 classes would be another huge step in the building of this Carolina program. 
Carolina averaged over 4 yards per carry in only three games in 2021. Sure, the carousel at quarterback did not help the offensive line situation for the Gamecocks last season. Couple that with an offensive coordinator who was trying to get his sea legs under him and it's no wonder teams were able to stack the box against the Gamecocks and stymie any semblance of a rushing attack.
But too often the Carolina offensive line just got flat out whooped. There are reasons to be hopeful that the 2022 offensive line will be better. Those reasons have been flushed out throughout the offseason and will be examined more closely throughout preseason camp. But when it comes to the future of the position, Carolina can address a lot of wrongs by recruiting and signing the local offensive linemen this state is producing.
After signing two local stalwarts along the offensive line in 1964, Tennessee saw massive improvements over the next few years. While success for Carolina in the years to come will not be as simple as just signing local blue-chip offensive line recruits, it would be a huge piece to the puzzle.
If Carolina can finish off the 2023 offensive line class in a strong manner, look for momentum to extend into the recruitment of the 2024 offensive line class.
There is no time like the present for recruiting offensive linemen in the Palmetto State. Beamer, Adkins, and the rest of this staff understand that.