Four-star ATH Kelton Henderson locks in South Carolina official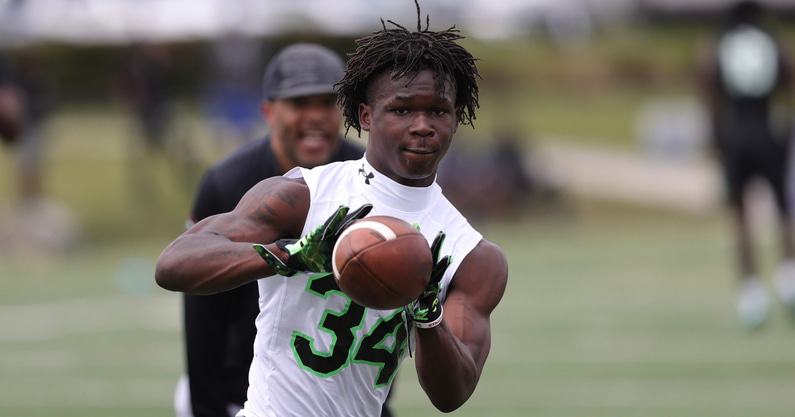 Fort Myers (Fla.) Lehigh class of 2023 four-star ATH Kelton Henderson has locked in an official visit with South Carolina football for the weekend of June 10.
Henderson is rated as an "athlete" by On3 but is being recruited to play wide receiver by South Carolina receivers coach Justin Stepp.
The 6-foot, 180-pounder also has a Michigan official visit scheduled for June 24. Those are his only two confirmed officials at this time.
The On3 Consensus – a complete and equally weighted industry-generated average that utilizes all four major recruiting media companies – ranks Henderson as the No. 20 athlete, No. 372 overall prospect and No. 70 state of Florida prospect in the 2023 class.
The On3 Recruiting Prediction Machine (RPM) shifted with the addition of the South Carolina and Michigan official visits in the database, giving South Carolina a leading 37.2 percent chance of landing him and Michigan a 32.6 percent chance.
The On3 RPM uses machine learning, expert predictions, social sentiment, visits, and historical trends to predict the percentages a recruit will choose a particular school.
Dorman OL DJ Geth reacts to Gamecock football offer
By Mike Uva
On Monday, Dorman class of 2023 three-star offensive lineman D.J. Geth was offered a scholarship from South Carolina football coach Greg Adkins.
At 6-foot-6, 300 pounds, Geth, who has offers so far from nearly a dozen schools, including North Carolina and Louisville, shared with Gamecock Central what stands out to him about USC.
"The atmosphere (and) coaching staff; I feel like they're building something down there," Geth told Gamecock Central, during a Wednesday practice. "That Kentucky game (I went to) was pretty loud and wild there… When they have the little towels and they're just waving them around on the beat, I think that's pretty cool to me."
Geth has two official visits coming up this summer, which include North Carolina on June 8 and South Carolina on June 24. Consistency and being authentic are two things that have stood out to Geth from the Gamecocks.
"Shane Beamer is a good coach. We just got off FaceTime last night. He's just good and he keeps it real. (The coaching staff) gives me a text everyday just checking-in and seeing how I'm doing (and) how spring practices are going."
Geth is one of two Dorman offensive lineman who have been offered by USC. He joins teammate Markee Anderson, a four-star who is rated the second best IOL in South Carolina for the class of 2023. Geth says he hopes to make his decision before that start of the high school season.
"It would be pretty special (to play at South Carolina). Just a great opportunity for me… I feel like they're trying to win and I like to win so I'm with that."