Four-star ATH Kelton Henderson locks in South Carolina official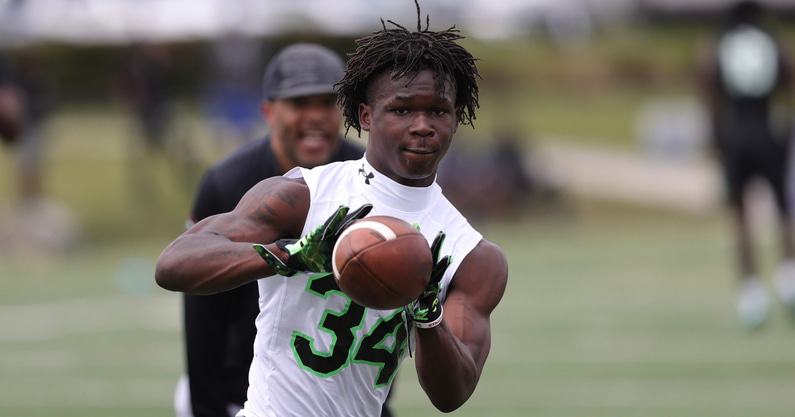 Two of Kentucky's top incoming freshmen are earning some spring hype.
Over at 247Sports, Chris Hummer unveiled a list of the top 100 college rookies (as there are 100 days until college football returns) for the 2022 season that could make an immediate impact. After talking with plenty of sources around the country, Hummer complied a deep list of freshmen that includes Kiyaunta Goodwin and Dane Key from Kentucky.
Considering the buzz we've heard out of spring practice, this isn't much of a shock, either.
Here's what Hummer wrote about the two fresh-faced Wildcats:
Kiyaunta Goodwin, OT, Kentucky
247Sports Composite: No. 37

Offensive linemen often have to worry about gaining bulk when they enroll in college. That won't be a problem for Goodwin, who arrived at Kentucky at 6-foot-8, 340 pounds. In fact, the battle for Goodwin this spring was pushing his weight down. Kentucky is replacing both of its starting tackles from last year, which creates an opportunity for Goodwin. For the most part Goodwin worked with the second-team this spring, but he's still considered a starting candidate ahead of fall camp. 

Dane Key, WR, Kentucky
247Sports Composite: No. 228

Key was one of the stars of Kentucky's spring practice run. That's great news for a program that has a lot of holes to fill at wide receiver. Key, a four-star recruit from Lexington, looks like he'll be an instant part of Kentucky's wide receiver rotation. 

"I like the way he approaches it, he's very mature, and he also has a very good feel for it," Kentucky head coach Mark Stoops said this spring. "The talent is there, but there's also some things that — the understanding of the game that you can tell very early that he has that."

via 247Sports
Goodwin is the prize piece of Kentucky's 2022 recruiting class, finishing as the 55th best player in the country and tops out of Indiana, according to the On3 Consensus. The 6-foot-7, 355-pound offensive tackle is an absolute beast of a human and was highly sought-after by the likes of Alabama, Clemson, Ohio State, and Michigan State. Getting him to sign on the dotted line was more stress-inducing than it probably should have been, but he ultimately favored his relationship with associate head coach Vince Marrow and landed with the 'Cats.
As for Key, the 6-foot-2, 190-pound pass-catcher has been the biggest surprise among the early enrollees. Marrow called him a "bad dude" following the conclusion of spring practice and there is a belief Key will step in right away as a starter out wide. If you remember, he caught two passes for 43 yards and a touchdown during the Spring Game.
"I'm telling you this. I knew Dane was good; I did not know he can be that good," Marrow said earlier this month on KSR. "He has the potential to be really good. He's tough and he's a student of the game. He's up here every day."
Key, who played his high school football at nearby Frederick Douglass in Lexington, was the top-ranked Bluegrass prospect in his class and a top 300 recruit in the country. He chose the 'Cats over South Carolina and Michigan.
Of the 100 freshmen that made Hummer's list, 23 will play in the Southeastern Conference. Considering the news that has controlled the college football headlines over the last 24 hours, I'm sure you can guess which program has the most…
Texas A&M: 4
Missouri: 3
Vanderbilt: 3
Georgia: 2
Kentucky: 2
LSU: 2
Alabama: 1
Arkansas: 1
Auburn: 1
Florida: 1
Mississippi State: 1
South Carolina: 1
Tennessee: 1